Roon Core Machine
Mac Mini Late 2012.
2.6GHz i7
16GB RAM
14.6 OS Mojave
Roon 1.8 (898)
Networking Gear & Setup Details
Eero 6 Pro Wifi Nework
Netgear 24-port switch.
All endpoints on ethernet.
Connected Audio Devices
Raspberry Pi + Pi2AES HAT + HQPlayer > AES/EBU > Denafrips Pontus II
Pi connected via ethernet
Number of Tracks in Library
~50,000 tracks total (40,000 from Tidal/Qobuz, 10,000 local)
Description of Issue
Just finished ripping five CDs as normal to main storage location, and usually the new imports show up in "HOME" under "ADDED."
But for this recent import, only two of the five albums show up. Little Feat, Gillian Welch and Flim & BB's do not display on HOME tab, but they do show up in "My Albums."
I've restarted roon server/core.
Rebooted the mac mini that runs the server, also.
Forced rescan of storage location.
No Change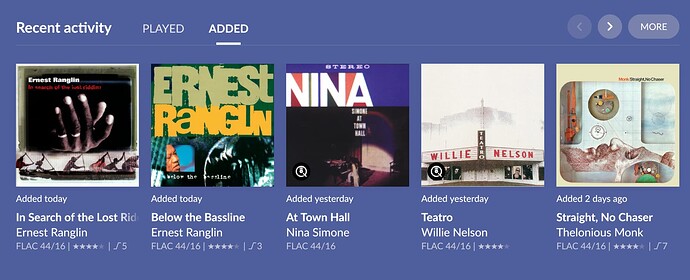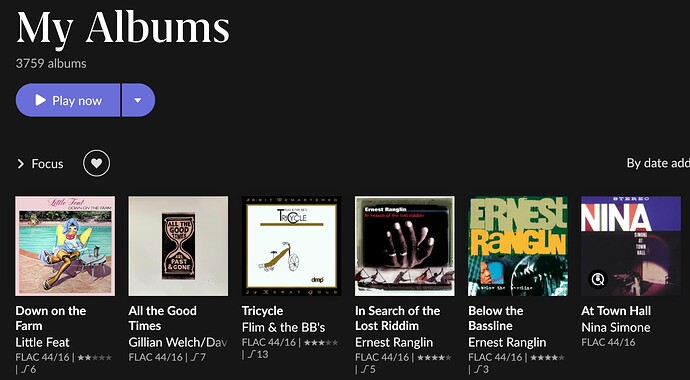 I did see the thread below, and I have the same behavior. But the fix (settings > import settings > track import dates > set to "no") didn't work for me.