15 minutes I will connect the dac directly to the computer and post feedback.
Ok, the intermittent issue directly connected the the computer is not present, so SOTM is the problem.
With the same the network cable is identical Audioquest Vodka, and the same switch.
But connected at the computer changing track formats the 1.4mhz appeared on the DAC and this one is very noisy, photo taken at 16h.51 greenwich meridian time.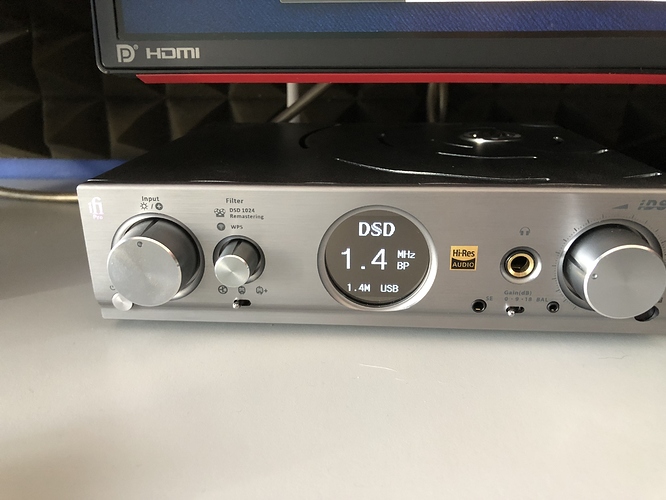 I have to add that this issue is only present as a Roon endpoint with SOTM, DLNA does not have this issue.
Reported in the nick of time, I was 1 day away from pulling the trigger on a Pro iDSD. Seems like there may still be some firmware bugs.
F**K !!!
The suspense was killing me

so I tested last night.
I remembered there was one setting Allo shared for DietPi for the USBridge that needed to change between Roon and Roon+HQP… and I'd forgotten about this a couple of weeks ago when using Roon alone.
Tested last night with USBridge with RoonBridge and had no pops.
No issues at my end, with RoonBridge playback or HQP NAA DSD512x48 24MHz playback.
Haven't seen any Pro iDSD specific bugs on my unit but it could be a DAC specific issue with Riky. Hopefully not of course.
The dac has some bugs, it does not have MQA yet, this issues only happen in Roon, I like very much the pro iDSD.
iFi for sure will correct some bugs and add MQA as anounced. The SMS 200 works very well with it.
Software needs to catch up. I have mine since fist week of June, and needs a long burn in. But iFi does not support Roon, so take that into account.
I understand MQA decoding + rendering hasn't been added yet but I haven't seen any DAC specific bugs myself, with either Roon alone or Roon+HQPlayer.
I hope your issues get sorted.
The firmware bugs are well documented for this DAC. The last firmware release targeted some of them so my guess would be upgrade to the latest firmware and go from there.
Something very wrong there
Today I connected My iFi Micro iDSD Black and has the same issue, so two iFi DAC connected to SOtM with the same behaviour.
If it is firmware affects all iFi DAC's.
I have to try with the xDSD tomorrow.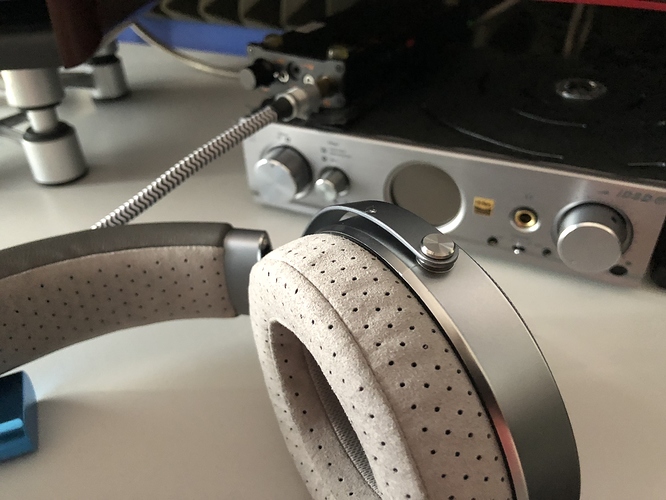 Something very wrong there - I had no issues with my micro iDSD BL and xDSD… and no issues with my Pro iDSD…
Do you have a Raspberry Pi to test with? Installing something like RoPieee which has a relatively up to date kernel? You're only playing bit perfect, so not using high sample rates so the Pi would be fine for a test.
From CA Forum you know that your native DSD issue needs the SOtM kernel to be updated… that's the solution to the native DSD static sound - it's not a Pro iDSD firmware bug at all. You will see that the latest RoPieee version has this week patched native DSD support for Pro iDSD.
Stable release 2018/09/01 (160)
I wonder if these other issues are SOtM firmware related too… Testing with another Linux endpoint like Pi with RoPieee might help.
Where did you get the last iFi Pro iDSD firmware, since I received my Pro iDSD iFi did not came out with a new firmware that I know of.
There is the 5.30 Firmware for all other of their DAC range, but not for the Pro iDSD. So any help is welcome.
I never had a Raspberry Pi, and only use bit perfect, DSP disable, no Upsampling.
Understood, I only asked/suggested for a quick test, if you had one. If a Pi works fine running RoonBridge (something like RoPieee with a relatively up to date kernel) with the same network chain then you would know it's the SMS-200…
Restoring the SOTM SD card resolved the intermittent noise issue…
But not the 1.5mhz stuck changing frequency sometimes.
SOTM version 4.22.
I play thru an SMS-200 to an iFI DAC2 and an iDSD without any problems. There's something else wrong with your setup.
Aha. It's been my experience that the SMS-200 can (eventually will) corrupt the SD card.
Nice. This is why it can be nice to have a Pi around to help with troubleshooting sometimes (especially for <PCM192kHz testing)… If the Pi worked days ago, you would have isolated the issue to the SMS-200 days ago too. And RoPieee have already patched the Pro iDSD native DSD support earlier this week and SOtM have not yet…
I found Roon to be the fastest, more stable, and better supported software available. I would like that they supported iFi a little more, like adding icon packages for iFi Products, or the option do add our own, and make use of the wired network connection on the iDSD Pro, or adding support for DLNA in some way.
Audirvana sounds good, but is slow and ugly, full of bugs on Mac, and support for Mac at the moment is not something to grab about.
Do you recommend any settings for HQPlayer and iDSD Pro, I am on a Demo period but do not know what's the best config to have.
But regarding to Roon is on the right track for being the best of the best.
It comes purely down to personal taste but right now I'm using poly-sinc-short-mp-2s at DSD512 with ASDM7 modulator and really enjoying it.
Give it a try and let me know your thoughts.
This topic was automatically closed 36 hours after the last reply. New replies are no longer allowed.