Hi Roon Support,
I currently have a successful Roon core/player install on a laptop.
My laptop has:
8GB ram
500 GB SSD
i7-6500 CPU
Its a lenovo Yoga 930 i think
I have another PC which has the following specs:



With over 40GB SSD space free.
CPU spec:
Both PC's run windows 10 home edition.
I store music on a USB external HDD.
Its 4TB, connected via USB 2.0.
I would like to understand why the music import fails on the i5, but is successful on the i7.
When completing the import on my flac directory (WAV directory is fine,and imports without issue), the software freezes and shutdown, on the Nuc i5.
Reopening the software, sees the software shutdown again.
If I turn off the USB hard drive, the software functions fine and opens.
Here is an image of the added directories, with the USB drive switched off: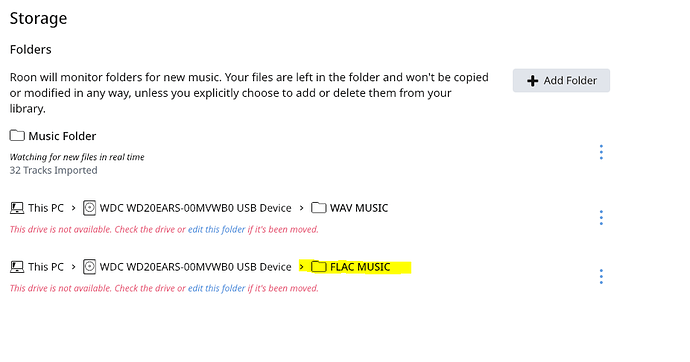 This directory imported fine on my laptop.
The HDD holds 555GB of flac, 27,803 files, 185GB WAV, 4925 files.
Any ideas? I only have 4 days left on a trial, and according to the roon specs, the Nuc i5 should be ample. I'm reluctant to buy without this resolved, and/or an understanding why this is happening.
Thanks in advance.