Roon Core Machine
Core: Intel NUC8i3BEH on Ubuntu 22.04 LTS w/ Roon 1272
CPU: Intel Core i3-8109U (4×3 GHz)
RAM: 8 GB
Storage: OS and apps on a M.2 SSD, files on an internal 2,5" SSD
Networking Gear & Setup Details
All devices are hardwired w/ cat. 6 Ethernet cables to my office network through Netgear and HPE switches. Wi-Fi is disabled on the core and my main client. UPnP and port forwarding is up and running. Our web provider offers IPv6 support, which I don't want to disable for obvious reasons.
Connected Audio Devices
Main client: Mac mini M1 on macOS Ventura 13.4 w/ Roon 1272 feeding an external DAC.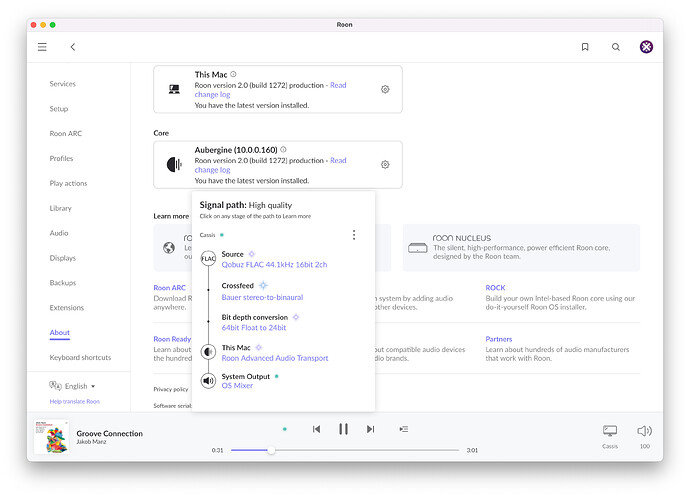 Number of Tracks in Library
A little over 6 000, split 50/50 between 16/44 ALAC files and Qobuz favorites.
Description of Issue
Music playback stops abruptly from time to time with the "Nothing playing" message. I tried simplifying my setup to the bare minimum, cleaning the library, deactivating DSP, checking common recommandations, nothing works. It just keeps happening, sometimes once a day, sometimes twice in the same track (local file or streaming all the same).
It seems that Roon Server periodically looses its cool and chews up resources. As long as the CPU is maxed out at 300 to 400 %, the playback can't be resumed on the clients end (no zone is available and the current track is "forgotten"). As soon as the server reverts back to a more sane state, playback can be resumed, but sometimes, all it takes is restarting Roon on the client side.