Thanks. Effectively the same stream.
Hi Alan -
Thanks for the information. How does one add a new "live radio" URL into Roon? I know if I have local media, I simply drop it on my Roon GUI. How does one a URL such as http://streams.kqed.org/kqedradio?
Thanks!
Carl
This might help:
Adding Custom Stations

You can manually add Live Radio stations by choosing ADD STATION on the My Stations screen: You can add stations that stream in MP3 or AAC formats, and Roon also supports TuneIn web page URLs. You can usually find a streaming URL on the radio station's website, or you can use the URL of a TuneIn web page.
from the https://help.roonlabs.com/portal/en/kb/articles/live-radio FAQ
Ha. Right in front of me. Thanks! (Radio on the net sure has changed since I first started doing it. Loving my Roon system.)
Hi,
The original KQED station in Roon is now working.
Good news. They've changed their sampling freq to 22.05. Roon can deal with that.
Your correspondence did the trick. Well done and thank you…
Thank you for your help, Brian!
Several Slam FM! stations seems to have different urls, again.
Slam!, Slam 00s, Slam! The Boom Boom - works
Slam! 40, Slam! Nonstop - not working
I think the swedish public service station SR P4 Dalarna has been misplaced geographically once more.
They are officially seated in Falun, Dalecarlia, Sweden.
I'm located less than a mile from them but still had to expnd my "local range" to 250km to find it in this new B806 version.
(I don't know why this is, but lots of the other regional P4 stations showed up though)
And also, Radio Paradise is impossible to filter up in Live Radio section? I had to search for it in the general search in Roon.
I've checked the co-ords and they seem fine (60.6055, 15.6306). And as far as I know, nothing changed in live radio in B806.
I can't check your local stations, but I can mine, and the algorithm seems OK. Does the problem persist over a reboot?
Radio Paradise, like many, is in a large category and there is a limit on how many stations Roon will load into a list (250, I think). Easiest is to add it to your my live radio stations so you can go straight to it.
Thanks Brian, i already have added it to My Live.
The geo-positioning is a mystery though, and i assume that Roon uses whatever public gateway location is available from my ip adress?
As of right now my location seem to be determined from my ISP's active gateway, which makes no sense:
What Is My IP Address? Your IP address is: 85.228.148.40

Welcome to IP-Adress.com, where you can quickly and easily determine your IP address or find out more about a domain or hostname.
Your IP address location is Eskilstuna, Södermanland County, Sweden and the ISP of your IP address is Telenor Sverige AB
Eskilstuna is about 250km away from where i and SR P4 Dalarna reside…

Thank you @Kristof_Rutten, I've changed the URL as you suggested.
I've also changed the station name to Nostalgie Vlaanderen while I was there.
Hello @BrianW,
I was hoping to get your help with a radio station: Nostalgie: Saturday Night. The original link is here:
The stream URL that adds it in Roon is this one:
http://opml.radiotime.com/Tune.ashx?id=s241791&formats=mp3,aac
However, whenever I try to play (or our users), the following error presents itself: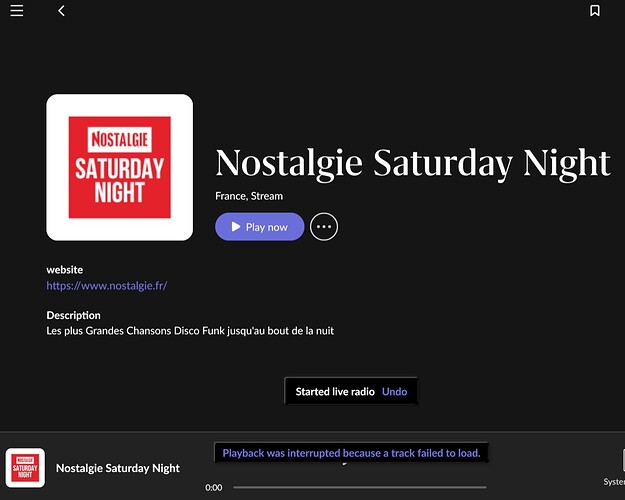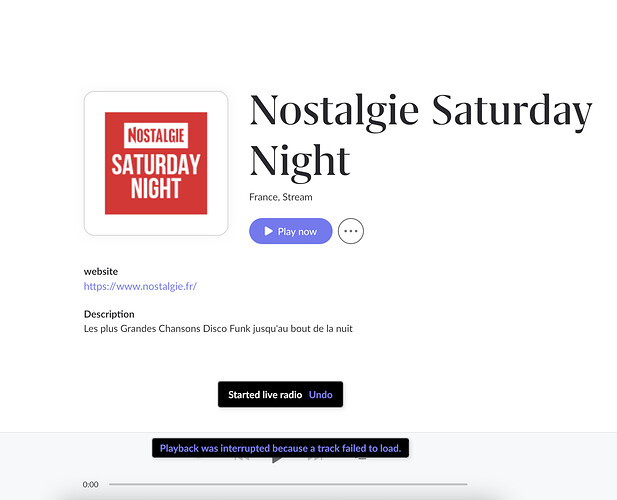 Is there anything we can do to enjoy this radio station?
Thanks a bunch

Roon had trouble with the Tunein stream, (https and redirection), but I've found another and added the station to the dtabase.
Search for Nostalgie Saturday Night with the magnifying glass.
Wow! That's awesome @BrianW. Thanks a whole lot for the prompt and fabulous help


.
Hello
When I click to The Boomroom , witch a station from Slam! Naarden, Holland.
i get the same music as when I click to hardstyle.
I see the same artist and number on the playlists of both stations.
Hardstyle makes me sick, The Boomroom is fantastic.
I contacted Roon for this matter, they gave me a link to this forum.
How can you help me?
Walter van Langeveld,
Steenwijk, the Netherlands.