Hello @Tom_MacLean1 , thank you. I've updated the streams (and for Smooth Lounge too)
JOE (Vilvoorde, Flanders) isn't streaming since yesterday. The direct link throws an error (503).
The new link seems to be :
It used to work in the past, but OpenLab is not streaming in Roon radio.
Is this fixable?
Kind regards,
René
This station was not in our database, so I don't know what streams you were using. However, I have added OpenLab now, please check if OK.
Great! I once added it by URL, then in 2019, they suspended broadcasting and now they are back since last year but the new URL did not work in Roon. Thanks for adding the station Brian! It works like a charm

Hi all,
I tried setting up Radio DeeJay using the TunedIn URL: Radio Deejay, 96.7 FM, Lombardy, Italy | Free Internet Radio | TuneIn. All the details populate and the station appears to be set up correct. But I keep getting the same error, see pic attached. Any thoughts?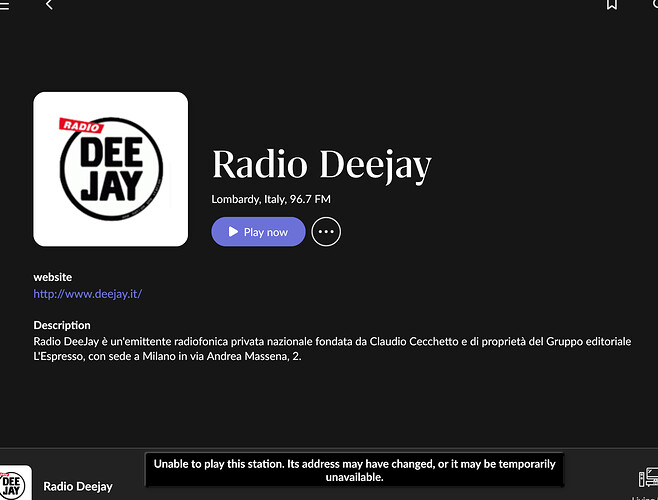 Unfortunately, this station's stream is unplayable by Roon at the moment. It's an HLS stream consisting of chunked .ts segments. I've looked for alternatives but failed.
Roon are aware of the problem.
Thanks for your help @BrianW ! Does that mean it might be playable at some point or is it a no go, period?
Roon tell me that they intend to fix these issues, but, as ever, no time frames given.
Thanks kindly for the insight @BrianW ! Appreciate you.
Hello Live Radio Team! The link for 98 Rock Baltimore has changed and is no longer working.
Thanks for your help!
Updated the link. Try now
Working now. Thanks, Brian!
Appreciate the quick response!
Hello @Carl_Malamud , yes, I'm aware.
Unfortunately, their stream plays at a very low sampling rate which causes Roon problems. See
I have informed the Roon devs.
After I notified KQED of the issue and its cause, they sent another link for streaming last Friday. Unfortunately, that didn't work either. I've informed KQED that the problem persists.
I recommend that @Carl_Malamud and others affected contact KQED as well. Their EM is vwrserv@kqed.org.
Can you share the other link please? Useful for testing.