Core Machine (Operating system/System info/Roon build number)
Mac mini (M1 2020) MacOS 11.1 Roon 1.7 (Build 710).
Network Details (Including networking gear model/manufacturer and if on WiFi/Ethernet)
Internet via Ethernet, wired to Deco M9, which is also wired to the modem, with max speed to 100 Mbps via speednet.
Audio Devices (Specify what device you're using and its connection type - USB/HDMI/etc.)
Auralic Altair G1.
Description Of Issue
Dear Roon,
When playing Qobuz 192 kHz, Roon skips the track and gives the message that media is loading slowly.
Playing the same track directly from the Auralic Altair G1 does not give this problem, Altair G1 is also connected via Ethernet.
I can also play the same file wirelessly via Roon Bridge on my MacBook Pro as endpoint.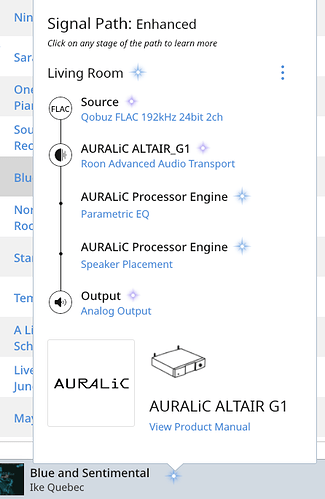 Can you please help me how to solve this inability of not being able to play files of 192 KHz
Thanks!!!
Attached an image of a track that gives problems.
I have also put this topic on Roon Software category, but realised that I need to put it in this category in order to get feedback.