Like to see this Hybrid DAC/Tube Amp to work with Roon.
Woohaa! That'll make an excellent Roon Bridge headphone endpoint. I'll be pledging tonight – now, which tubes to get?
You can still get 2 for the early backer price. The single early backer pledges are already sold out.
Btw, there is no Pi + Tube amps topic on this forum yet, right? Eg to compare all the options of Tube amps for all Pi versions. Start one?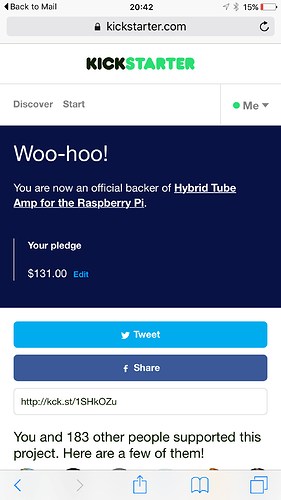 More news this August, if all goes well. This is just too crazy to ignore.

I don't know of any other Tube/HAT options, but a thread on DAC HATs / experiences could be fun.
I've signed up for the August tranche.
Wi-Fi Roon/HQP to a tube Pi and headphones feels appealingly steampunk.
Any specific reason why you chose August and not July?
Single unit July is all gone.
Ah, clear

Thought you would go for two (one for you, one for Roon?) and receive them in July.
Can you (or a colleague) please reach out to them, as they posted in their comments on the kickstarter page they want to be a RoonReady partner but couldn't find a way how to.
Sounds like an opportunity for @robdarling. I'll PM him this thread.
Chances are pretty good that it will "just work" with RoonBridge. There's no way they release that thing without working ALSA support

Probably, but it would be awesome if they would be a RoonReady partner/endpoint.
So "that thing" + Pi3 + RoonBridge = Wifi enabled Roon endpoint?
Say yes and will signup!
Cheers
Hi Joachim,
I don't want to say Yes definitively because the product hasn't been released yet, so no one can say for sure.
What we do know is that the Pi3 + Roon Bridge works as a WiFi endpoint and I can't see any reason why this HAT would change that.
I put my money down, but don't want to tell others they can safely do the same until it ships and early users confirm it works.
This might be excessively cautious, but I do have an original Ring mouldering in a drawer.
It's going to work just fine, I believe. How well it sounds remains to be seen (or heard) until it has shipped. And there's no way of telling how WiFi will hold up underneath this humongous HAT.
But still – all this on top of a Pi… I think @andybob's 'steampunk' is very apt.
Probably, but it would be awesome if they would be a RoonReady partner/endpoint.
Absolutely

So "that thing" + Pi3 + RoonBridge = Wifi enabled Roon endpoint?
Assuming you find the Pi3's WiFi implementation stable enough, sure. I'm still getting better more stability and performance with USB adapters, even on Pi3's. I assume this will get better as kinks are worked out in the OS + firmware.
I have 2 Rpi-based wireless zones here, and I'm about to add a third. One goes all the way up to DXD formats with a USB DAC, and the other uses an IQaudIO DAC so it's limited to 192k. Both use the popular $10 Edimax/Realtek USB WiFi adapter. It is a great solution for expanding Roon throughout the house.
Hi, this is Michael Kelly. I am the owner and chief engineer at PI 2 Design. I am so very glad you guys like the tube hat! We have other audio hats as well but obviously the tube is what really caught everyone's interest!
We just heard about Roon audio today. One of our backers mentioned them and I'm pretty sure they're on this thread as well. So thank you very much for that.
We do support ALSA so I am pretty confident it will work. But since we have little familiarity with it it may take my engineer some time to install and test.
I look forward to hearing from someone about becoming an official partner. We have another amp hat that we want to use to create active speaker end points.
I can see an entire line of raspberry pi based audio hats running streaming music using Roon audio!
I used our sales email to register, because when you access it it gets copied to a couple of different people. Not trying to hide!
Mike
PS can you imagine a tube hat for the pi zero!? I actually did the design but didn't release it wanting to do this one first. Plus no one seems to be able to get a raspberry pi zero, still.
Hi Michael and welcome,
I've given you a title identifying your commercial affiliation. We welcome Roon relevant announcements, discussion and involvement on the forum by associated hardware and software developers; @mike may send you a PM with further guidelines about forum use.
The Pi is an odd case so far as Roon Ready partnering is concerned because it has a readily programmable SD card OS instead of firmware. As Brian said, with Roon Bridge installed it is likely to just work.
There are, however, users who might prefer to use an image without installing Raspbian and Roon Bridge. There may also be a possibility of volume control from Roon.
I expect you'll hear further from the Roon devs shortly, but if that doesnt happen let me know and we'll make more noise.
Also the other 2 hats look really promising:
35W/Channel Class-D AMP HAT
This is a Raspberry Pi Hat with a Stereo Class-D Amp. Perfect for multi-room SONOS style audio streaming. A 138mw Headphone amp is also included to allow for private listening when you want it.
High-Performance Digital Audio HAT
The 503SPD1 is a Raspberry Pi Hat with a Wolfson WM8804 SPDIF transmitter.
(It would be awesome if the DAC hat will be a POE DAC, so everything (Pi + DAC) can be powered over Ethernet :))
I think you can best start working on RoonReady endpoints (software) for the pi's with this portfolio.
The answer to this question is always Telefunken, but I like Siemens just as well. Fortunately, the 12au7 is a medium to low mu design that doesnt have the noise issues of the 12ax7. I think I've got some NOS Mullard in my girlfriend's phono stage. She might need some new valves, cos new valves are better than old valves, right ?