Dear Ronners,
It's my pleasure to finally complete rooHead after a long period of announcing it.
rooHead provides FIR equalizers for your headphones, bringing the headphone sound to the level of a calibrated system with speakers in a reference listening room.
For more information please also visit the my Sellcodes page for rooHead.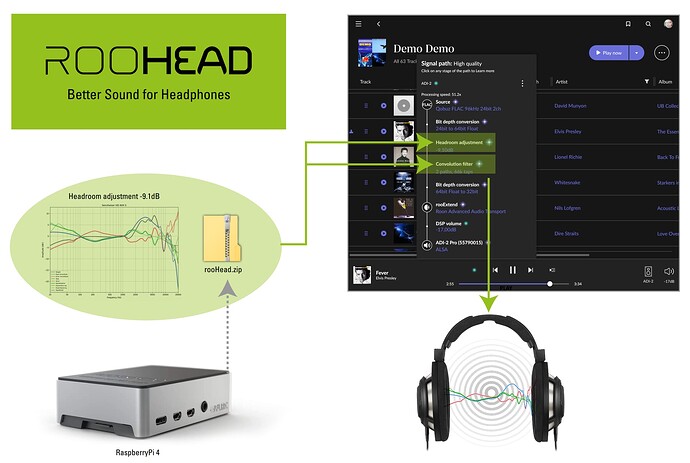 The equalizers offered are based on the Harman target curve developed, published and scientifically verified. If you are interested here some background information here about Harman target curve).
Since setting the Harman Target curve also gives space for personal taste and your listening experience, rooHead offers two tone controls. One for the Tilt, and one for the Bass boost.Tilt shifts the balance between low and high tones, with a positive tilt increasing the highs. With the Bass boost, the behavior below 100Hz can be changed.
The default value for both is 0dB. This fits to the Harman curve, which most listeners liked best during the research phase. One result of the research was also that experienced listeners will tend to reduce the bass Boost a bit and older listeners will increase the Tilt.
Next to the Bass boost and Tilt settings there is a checkbox to enable Headroom management. This makes sense if you want to compare the sound with and without the equalizer at the same volume. I recommend using that.
Myself I own an older Sennheiser HD 580 precision headphone. I never liked the sound, too thin and overall, just too bad compared to my calibrated system in the living room. This dramatically changed using the equalizer provided by rooHead as it now literally sounds the same. This surprisingly good result led me to renew the already deteriorated foam of the headphones and to replace the cushioning in the headband. Since that I use it quite often in my study while working and enjoy the incredible sound.
Many thanks to Jaakko Pasanen for his great work supporting the public headphone database that rooHead uses for calculating the easy to use equalizers for Roon. He is always happy about donations, and I will also donate part of the income from rooHead to him.
In my YouTube playlist you will find a video on how to setup rooHead and how to use it.
In this thread I like to encourage you to drop your questions and comments regarding rooPlay. Feel free to ask and tell me your success story. I will be here to support you.
Best DrCWO