Hi everyone!
We are going live today with one last maintenance release before we bid farewell to 2019!
Now Playing and Media Keys on MacOS
The biggest change in this release is overhauled transport controls on macOS.
On macOS High Sierra (10.13) or newer media keys for play, pause, next, and previous should work automatically (as they do with Music and other apps), and this includes media keys exposed on the Touch Bar. Roon will also no longer require users to set accessibility permissions on these versions of macOS either.
As part of these changes we've also added support for the Now Playing widget in the notification area, where you can see what's currently playing and interact with transport controls: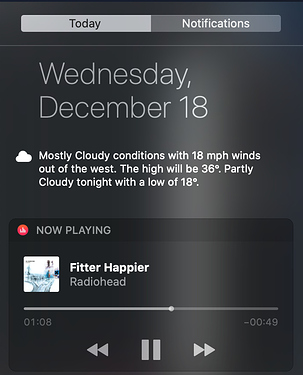 Other Changes
This release also includes some changes related to our recent OpenGL changes. On Windows, we will warn when your system does not meet our OpenGL requirements, but we will no longer prevent you from opening Roon.
We've also fixed a few crashes, and addressed some issues related to the "Shuffle" feature designed to work inside your library (such as on the Genre page, or when the mode is enabled on the Artist screen) that were having issues in Roon 1.7.
Finally, we've released an update to Roon Bridge that includes some minor packaging changes and bug fixes. These changes also mean that Roon Bridge will now require macOS 10.9 or higher.
The full list is below, and Build 511 is rolling out now! Thanks everyone!
The Team At Roon Labs
Roon 1.7 (Build 511) Release Notes
---
Roon Build 511 is now rolling out for macOS, Windows, Windows (64 Bit), and Linux. Updated versions of Roon for Android and iOS have been submitted to their respective App Stores and will be available soon.
Version 171 of Roon Bridge is also available, although on Windows it is replaced by Version 172.
All platforms and apps should update automatically.
Improvements and Bug Fixes for Build 511:
MacOS

Updated support for Media Keys and Now Playing notifications on macOS 10.13 and higher
Resolves crashes with Caps Lock and Media Keys on Catalina

Windows:

OpenGL 3.0 warning replaces hard check (if you see a warning about OpenGL compatibility Roon may run into display issues or stability problems, and these may occur immediately or at some point in the future)
Roon will attempt to run when display settings are only configured for 16 bit color
Fixed diagonal pixel artifacts on some GPUs based on the AMD GCN architecture

Queue

Selection state: "Remove From Queue" moved up to the selection bar
Fixed button overlap on "thumbs" when track name is long

Library Shuffle

Artist "Shuffle" does not include tracks from outside your library
Genre Details: Fixed Shuffle button behavior

Live/Compilation/Bootleg cover icons are used again in place of text
Fixed repeated "You Haven't Backed Up Roon" popup
Optimizations to drawing performance and blending precision
Crestron/Control4: Fixed bug that only displayed 1 TIDAL/Qobuz favorite artist
Fixed crash when updating metadata
HQPlayer: Roon sends 64bit float stream when practical
Merge button not shown when selecting non-library compositions
Fixed layout issues when running on ultrawide (32:9) monitor
Fixed duplicate file tag displays with some M4A files
Zone Icon Picker: Fixed bad scroll position when opening picker