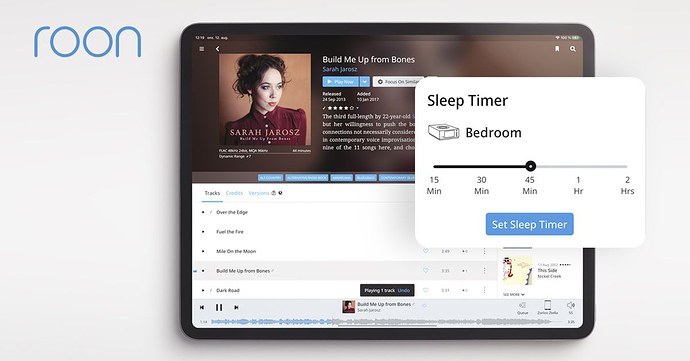 Hi everyone!
The latest update of Roon is now going live with performance improvements, bug fixes, and our new Sleep Timer feature!
Many Roon users listen to music in bed or while winding down for the day in their favorite listening place. Whether it's a soothing playlist or internet radio station, it's a great way to end the day.
With our latest update, you can do just that. Simply start your music, set when you want it to end, and fall asleep to your tunes as the music gently fades out. The sleep timer is available for any zone on any device, and can be accessed from the zone's volume pop-up by clicking on the moon crescent icon.
In addition to the new sleep timer, we have also implemented a number of functionality improvements, including updates to the DSP and graphics engine, which can be found in the full release notes below. We hope you enjoy this long awaited update and look forward to hearing what you think.
Thanks
Team at Roon Labs
Roon 1.7 (Build 610) Release Notes
Roon Build 610 is now rolling out for macOS, Windows, Windows (64 Bit), and Linux. Updated versions of Roon for Android and iOS have been submitted to their respective App Stores and will be available soon.
All platforms and apps should update automatically.
New Functionality in Build 610
Sleep Timer:

Tracks that end within 5 minutes of the timer will complete
Music will fade out when possible
The sleep timer is available for any zone on any device, and can be accessed from the zone's volume popup
Improvements and Bug Fixes for Build 610:
Smoother connection when connecting to the core

Improved TIDAL token behavior to prevent unnecessary manual login retries

Updates to Android audio support libraries that may improve buffering behavior on some hardware

Fixed alert color of notifications when devices are waking up

Settings > Storage: Fixed broken network unavailability icon

Sharing: Restored missing close quote when sharing lyrics

Removed redundant 'Roon Radio' option from Composition's play actions list

Updated copy for authorization screen

DSP:

Turning on Invert Phase for one channel no longer applies it to all channels
The "Mix" element in procedural EQ now works against a virtual 7.1 channel layout, enabling a single mix configuration to handle a variety of multichannel formats consistently.

Graphics engine:

Experimental changes to potentially address high CPU / GPU usage on certain MacOS devices
Improvements to reduce GPU load and video memory bandwidth usage.
Update images processing libraries
Scale factor fixes for android devices with non-default display size settings
Changes to potentially address whiteout screen problem on Windows devices using integrated graphics on Intel 3XXX series CPUs
Fixed display issues in the signal path with certain display scaling settings
Waveform display fixed on certain devices

Signal path:

Fixed copy for Linn outputs

Mobile:

Restored Extensions tab to Settings window