Thanks Johnny……looks like I'll just wait. Greatly appreciate the reply
Everything seems to have gone well here with Nucleus+ and Roon Remote on an iPad and Windows 10.
Interestingly, according to the admin interface, Roon database and settings has gone from 29% of 114 GB available, to 42%. Quite some shrinkage in the database size, although the number of albums is still the same.
After the announcement of the release of Roon 1.8 my system went offline. It's asking for updates to my computer and my phone. I am more interested in streaming music than web-based tools and my computer organises many other things in my home apart from music streaming. Before I download whatever it needs I would like to be sure it won't mess with all my other systems. I would hate to lose Roon but can't run my life at home without the computer talking to my printer, alarm, TV, car charger, heating system… I could go on but it would be boring. Any comments would be appreciated.
It looks like I cannot hide\unhide albums anymore.
Even the function delte albums doesn't seem to work.
Roon updating doesnt affect your computer just Roon. It's not going to change how your printer works or anything else other than Roon.
yep, i read that. But it was fine before this update.
only thing that worked was reinstalling roon and starting over with a fresh database.
lost history, album edits, playlists, audio zones.
Would be nice if Roon had a "database analyzer" that one could run beforehand to find issues before a new update destroys everything.
Still can not update my Fire HD 10 Pro Tablet, still showing the old version 831 and no where to update, if I go to the play store it says installed, and only shows devices avalible to isntal on is my Samsung phone, and hp Tablet.
I have tried uninstall install ect… reboted core x num time…
I am assuming the push to Amazon App store is delayed some how or still under review??
again love the new features, and the work
My Roon Rock just got killed by the latest update. The database is corrupted and I have to revert to a backup. What is going on?
Exact same issue here. Roon core is on one Windows 2012r2 server. I made a restore from an old backup. 10 minutes later…same issue… HELP !!
There are at least 3 people with the same issue. I don't think we are talking about a real database/hard drive failure. I think there is a compatibility issue with some Windows versions, hardwares,… Can you please revert to the previous version of ROON?
Nicely done @danny @enno and team! Thanks for the holiday cheer! All went smoothly for me with my Roon Nucleus and various control devices. Heck, even the SQ seems better!
Windows 11 Core server
Remotes:
Windows 10 Surface tablet
Windows 11 Laptop
RPi4 - diet pi, roon bridge
Rpi3b+ - Ropieee
iPad Air (old) - Roon Remote app
Samsung Note 10 - Roon Remote Android app
Stack Audio Link II
All working with no issues, all those that needed updates got them.
Hello Roon team. Incredible update, smooth interface, enhanced search etc., kudos!
Some of us are still concerned that the scrolling issue on the Apple Magic Keyboard has still not be fixed. We are wondering if you're hearing our voices, it's definitely an immense pain point. Please seriously consider fixing this issue - not sure why there's been a lot of push back on this small fix. So team let's just fix this once and for all, you'll surely make Roon users very happy.
All the best.
Assuming there is a Feature Suggestion for this, have you added your vote there? And, if there is not, you might create a Feature Suggestion for it.
That's the thing, though – it wasn't fine.

Your database was already corrupt, but the corruption only revealed itself when you took the update. This is why your backups are also corrupt, and is what we refer to as "latent" corruption.
This is essentially what we just released – Starting with Build 880, Roon is scanning for corruption on-the-fly instead of only during software updates that require a database re-scan. This ensures that you won't carry on with undetected corruption or make corrupt backups.
Horrible build quality. Kinda as expected. Many known issues got worse. Update did not work on my MacBook. Had to reinstall to get out of the update loop.
Most of the advertised network/library improvements got even worse.
What are you guys doing??? This is not even public beta quality. Seriously.
Great update Roon team. No doubt the sound quality has taken a nice step up in performance. Very pleased. Innuos Zenith 3 server.
I'll add my disappointment to the list: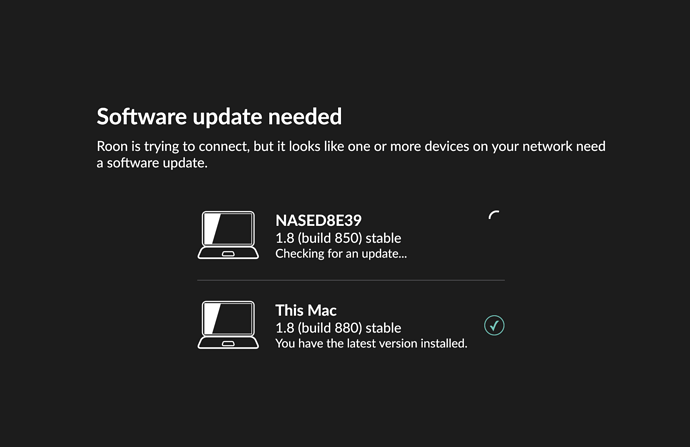 It continues to look for an update for the QNAP NAS.
My IOS devices which I haven't updated still work.
After installation of Roon 1.8 (Build 880) it's not possible anymore to sort tracks in playlists on iPad mini 6. generation. Before the update it was possible. Please bring back this functionality.