I'm still deciding if it's a placebo effect, but the current version sounds better.
Did roon include the update to fix the scrolling issues in the ios remote,the fix didn't make the last update but they said it would be in the next one
No they said it was in alpha testing and may make the next one, meaning the next one after this.
did the update last night. No issues but didn't have time to play with it intensively. So far, much better.
ridiculous,how much longer do they need to fix a scrolling issue,its already took them 24months
Well obviously they don't use playlists & history a lot otherwise they would have also addressed this one in the range of related bugs concerning preserving scroll position After lockscreen loosing position in playlists on iOS
@mike Can you shed some light? This is unfortunately annoying for iOS users every single time when using playlists/history.
Music often jumps like a broken record since the update. Some songs cant even finish and it jumpsto the next, this is ridiculous.
What the heck do you do?
I am really annoyed because everything had been fine for weeks prior to this!
You create a support ticket in the support forum.
He did … currently waiting for Roon's support team to reply.
Build 898 has restored the speed at which my albums and artists artwork is loaded. Thanks for this!
Unfortunately, it has not resolved my longstanding issue of intermittent missing metadata from the 'Now Playing' screen.
Qobuz working just fine here, Dimitri. Everything in Setup > Services looking good? Maybe try logging off from the Qobuz and Tidal services and logging in again?
Beat me to it, @AceRimmer

Thank you for mentioning this, I'd be happy to clarify. What you're describing is likely normal behavior. Metadata elements on the Now Playing screen will be different, track to track, depending on the level of metadata that is available for the specific album or track that you're listening to.
For example, Why I Sing the Blues by B.B. King from the new Summer of Soul Soundtrack is accompanied by a full range of metadata as seen in the screenshot below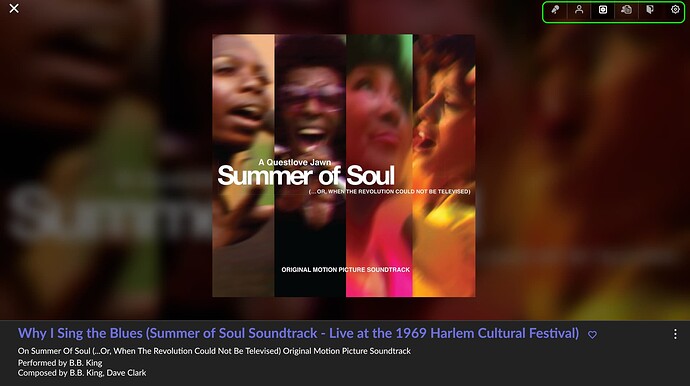 The previous track on the collection Uptown by The Chambers Brothers offers a different level of metadata, because of that some of the icons are missing compared to the B.B. King screenshot. I used a red frame here because the green was hard to see against the white background.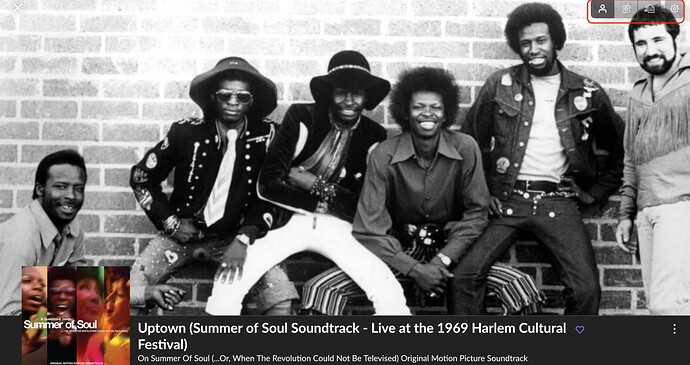 The B.B selection was accompanied by lyrics and track credits
The Chambers Brothers selection doesn't have lyrics or track credits, therefore the icons aren't present. That's normal behavior.
I hope this helps to explain what you're seeing.

Hi Jamie, and thanks for your post. I am not sure if your explanation fits with the issues that @SKBubba is experiencing, but it doesn't cover my issues. I have just been using Roon Radio, and the following 7 screenshots (of 7 consecutive tracks selected for me by Roon Radio in the middle of a lengthy Roon Radio session) illustrate my issue:
Tracks 1, 2, 4, 6 & 7 in this sequence retrieve and display all metadatada as I would expect. However, tracks 3 & 5 retrieve and display next to no metadata. These 2 tracks were "Shuckin' Sugar" by Peter Keane and "Wide open spaces" by The Groobees.
I have not been able to detect any pattern in respect of when and how often metadata is missing. The type of metadata missing varies. Sometimes it is the artist photo, sometimes album cover, sometimes artist and album details, sometimes all or a combination of these.
Edit: I should add that the above screenshots were obtained from the Windows 10 PC I use most of the time as my Roon control. However, the same issue occurs when I use my iPad Air as my Roon control.
Unfortunately one more problem to iPad Roon app that started (I think) with newest update. In album or artist list if I select scroll bar and use it to go to the end of list and then up again Roon app crashes. Just tried it 10 times and crashed every time.
It's faster at loading but should it have this big gap. Scrolled to bottom of all my albums and then go up and you get this glitch with a big black spacd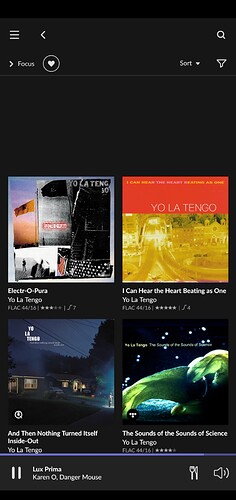 @support @brian one to make note of sure it's not expected.
Gets worse the more I scroll back up.
Same bug here.
It's been a lot of two steps forward, one step back with these updates as of late. The iOS controllers continue to be a bundle of issues of one sort or another. Since the last update the notorious bug that hijacks the iOS system volume and sets it to 100% is back. That's one I absolutely cannot live with. I just have to decide if I want to go through the usual multiple weeks long troubleshooting hassle with support to figure it out.
I see similar issues on iPhone Roon app (B898). No need to scroll all the way down even. If you pick scrollbar and moves arround rapidly and stop scrolling it crashes after a few attempts.
No crash on my side and no blank space. I am on iPhone 8.