Core Machine (Operating system/System info/Roon build number)
QNAP HS-453DX, 8 GB, 2TB SSD, Roon Core 1.8 (build 756) stable, QPKG-Version : 2020-07-15
Network Details (Including networking gear model/manufacturer and if on WiFi/Ethernet)
Fritzbox 7590, Netgear Switch ProSafe GS108
Audio Devices (Specify what device you're using and its connection type - USB/HDMI/etc.)
Sonos-Speakers, Apple HomePods, Denon AVR-X4400H
Description Of Issue
I'm experiencing a bunch of issues with Roon on my new QNAP-nas. Installed the Roon core via app center today and nothing seems to work correctly.
Only very few of my 11000 songs are playing with sound, mainly the ones in flac- or mp3-format. All the aac-songs I bought from iTunes are muted (but displayed as playing) or refuse to play at all.

When I try to start one of this aac-songs while playing a flac for example, the roon remote or mac client stops responding, while the sonos speaker (i.e.) keeps playing the flac file. There is no other way to stop playback than using the sonos app by selecting another song from my sonos library.

The configuration settings for roon core are not available within the app. Whenever I try to open it, the screen says "Searching for Roon OS Core …"

Webdisplay via the IP of my nas is not available (http://…:9100/display/). Only roon lettrering is showing in my browser windows (Chrome, Firefox, Safari)

Streaming via AirPlay seems to be completely broken. I can use Sonos-streaming to reach my various WiFi-speakers but not Airplay over the same network.
I've tried a lot: uninstalling an reinstalling the Roon Core on my nas, deleting caches and paths to my folders, reindexing an so on. Unfortunately nothing would solve the problem.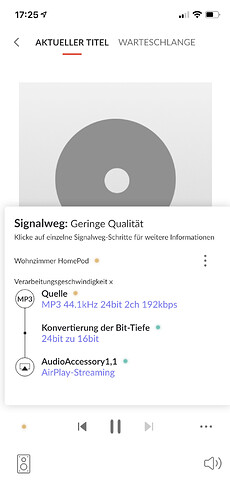 This stream via airplay is muted.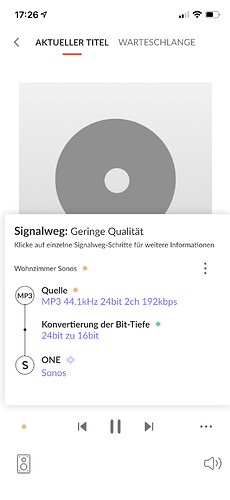 The same song via sonos-streaming is audible.