Roon Core Machine
Mainly a Win 11 headless server with 32Gb RAM, 250Gb Samsung NVMe and 10Tb WD Red running Roon Server. (Intel Core i5-11400)
Also using a NUC10i7FN* running Roon OS, same experience.
Networking Gear & Setup Details
Both servers hard wired, a mixture of WLAN and hard wired Pi's. Asus AX58 router.
Connected Audio Devices
Both USB from Core, WLAN from router to Altair G1, hard wired via unmanaged switches
Number of Tracks in Library
around 180K tracks local, ca 300 albums on Qobuz
Description of Issue
Was enjoying my new AirPods Pro on the doggy walk. Started Lady Blackbird, excellent album by the way, from my own library and enjoyed some 30 minutes glitch free playback…

Almost home playback stops and i am unable to start playback again, ARC just gives me the pulsating line and then Poor connection (in Swedish). Not even now, on my own WLAN, am i able to make ARC function again.
Issue looks VERY much like a couple of weeks ago when ARC crashed cloud-side…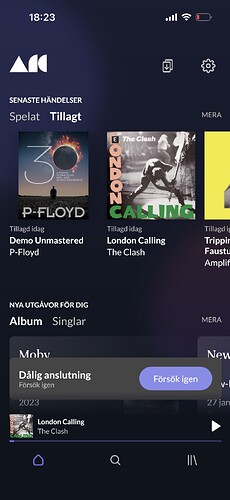 Additional data:
Of course the Roon ARC tab on my Core (through Roon Remote) says it is ready and available.
I figured it would be quicker to "Reset Roon ARC", but i am unable to connect to the Core and it clearly states it was last seen three hours ago???