Roon Core Machine
Lenovo L440 Thinkpad Intel Core i7-4600M 2.4GHz 16GB Ram ssd 512 win10 pro
Networking Gear & Setup Details
UniFi USG-3P
UniFi AP
Brostrend Extender
Ethernet
(I could switch back to just wifi from AP, but the ethernet set up seems more stable. I was an early tester and have had ARC working in both scenarios. I do not have the ability to go straight ethernet to router/gateway.)
Connected Audio Devices
N/A
Number of Tracks in Library
250k (I was reading about large libraries and the idea I need to throw more RAM, etc. at this problem. But I've had ARC working and well. Why is it not now?)
Description of Issue
Exact same as this person but I'm on an Android 12, LG V60: Roon ARC "Online and Ready" but unable to connect from iOS
One more screen appears for me after I force stopped the app, but I can do nothing after.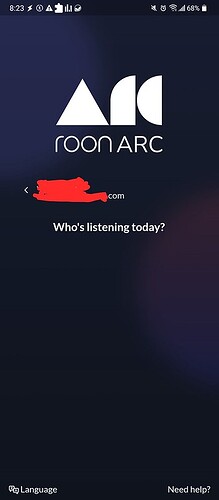 And now I'm seeing the three profiles we have, but again nothing happens when I click a profile.
In early testing I've had versions of ARC that worked well. I've hard reset everything but no luck.