I am quite sure there will be more than me and you
anyway… waiting for the bug fix here is how to… just get the old usb stick you thought was broken, format to FAT32, insert into your NUC and, miracle, the backup works again… until next time
If you followed the trail of my linked post, you will see that your problem is not the only problem with Backup/Restore.
The whole process is riddled with errors.
Not to downplay your problem, but there are more insidious problems than being told you can't backup, e.g. saying a backup worked when it didn't or backing up a corrupted library.
The problems with Backup/Restore are exacerbated by the fact that Roon insists their procedure be used rather than some tried and true backup software.
People need to realize the potential ramifications of these errors to the continued viability of their extensively curated libraries.
If what you say is true this is very worrying. I just assumed that the back ups were actually working. In my case I just have a problem getting the automatic back up to work.
Wouldn't lie to ya.
I backup up to multiple locations, with multiple retention periods, and on multiple schedules.
I check my backups every morning.
I have two incidents open with support.
You're probably Ok. I can only tell what my experience has been.
Hi @Paolo_C,
How is the USB stick formatted, is it using NTFS, FAT32, exFAT? Can you please access your ROCK logs by using these instructions and send me a set? I would like to take a look to see if there are any further clues contained in the logs, thanks!
ciao Noris,
sorry I've seen your post only now… yes for sure, tomorrow I will do that and send you the log
Ciao Noris, in your hands you should already have a zip file with my logs, it is dated October 1st … so it should be fine as it is newer then my post in this thread, it should already contain the info you asking for… the name of the file is Paolo_C.zip
(I'm having problems with that sh…t of Dropbox, Google Drive is so much better)
Hi @Paolo_C,
Please correct me if I am wrong, but there has been a network change since Oct 1st, and the logs you sent then would not be applicable any longer as per your other thread:
I'll make an account for you on our diagnostics servers where you can upload the new log set, info sent via private message.
Ciao Noris,
no, there was a small misunderstandig in the other topic now closed, Fritz didn't do anything to my modem-router and I didn't change anything in my lan hardware… with "supplier" I meant (I wrote it but maybe not clear enough) the internet supplier, the company giving internet (adsl) access… they fixed the problem in their cabinet somewere and the line is stable now, nothing about my hardware or my lan
so, the log you have is still valid as nothing change in the meantime…
about the usb key… it is FAT32
if you need the new log ler me know
thks for help (as usual)
Paolo
Hi @Paolo_C,
Thanks for the update. Looking over the older logs, I see that backup has failed in the past to your USB drive because it ran out of space:
Status=UnexpectedError, ErrorText=System.IO.IOException: No space left on device
Can you confirm you have enough free space on the drive?
Ciao Noris,
well to be honest I don't remeber… I had the impression it reached the limit of defined number of backups, not out of space… but I'm really not sure at all
I'm wondering… why Rock doesn't automatically overrite the older backup when memory is full or when reached the maximum numeber of planned backups? or it should does but is faulty/buggy?
in my car I have a 50 euro dashcam that does it automatically and as default (and is a sh…ty chinese piece of hardware)… the same should be with Roon/Rock, we define a maximum number of backups, for example 10, and if at the time to write a new backup in the memory, let say the 7th, memory is full he ovewrite the older one… or do we have to handle two different keys and waith for alarm to recognize last action was faulty? (it would be not really elegant in some hundreds software)
would it be possible to add a "warning" that is active, via popup (like that one about upgrade), that based on the last positive backup dimension and free space in the target memory inform the user of critical situation?
in a software like Roon the database is one of the most important feature (imho)
Hi @Paolo_C,
It should over-write the backups once you reach the maximum number you specified in the backup tab, but if the drive is full before you reach that limit then this issue can occur.
Thanks for the feedback here. I would recommend also posting your suggestion in the Feature Request section of the site.
Our product team and developers keep a close eye on that category, so that's definitely the best place to propose a change like this and get feedback from the Community.
Thanks Noris,
so the strategy is to install a not-too-small USB key and set a maximum of 3 backups… a waste of unused space but a trick to solve the problem, ok… I will try and let you know if it works (is this inside the user instructions? Where?)
… about to post the "idea"in the feature request… already done in the past, togheter with the request to add a temperature indicator in the browser interface… about the first, that regarding backup feature improvement, the team that developed the software probably still have to reach my post, as it was before couple of software release ago but still missing… about temperature we, customers, are still trying to understand why the team don't want to do that as it would be very useful for maintenance activity like cleaning the cooling system when dirty
anyway… thks for help

… so Noris here we are again
I got today again an error about failed backup… then I checked and changed the maximum number of backup in USB key from 40 (I thought that was a possible trick to solve the problem but obviously I was wrong) to 3… the backup should happen every 4 days at 1 a.m. ( in the night)
in the hypothesis Rock should overrun the old one once the key is full (but doesn't happen!) or, better, it should overwrite the older one once reached the fixed limit, 3 now, why I have again a failure error? … and more, is it possible to delete the old backup/files inside the key without removing the key from the NUC? How? … and more, FAT32 is correct for the key or there is another format that could be better? ( I use WIN7 pc to read the key outside the NUC)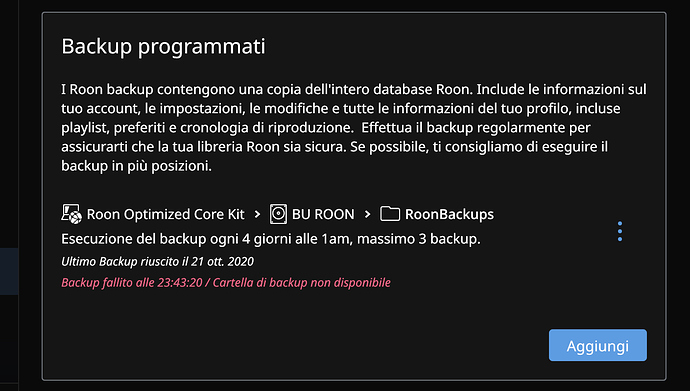 Go to Settings > Backups > View your Scheduled Backups. Then click the "3 dots" menu and choose Clean/Restore. That gives you the option to delete unwanted backups.
thank you Geoff

Hi @Paolo_C,
If you get into the same state with just 3 maximum backups, please let me know and we can take another look, thanks!
Ciao Noris ,
Ok thank you