Yeah, same here. Didn't take longer than 5 seconds to reproduce the sync bug.

I have a Pulse 2 and Pulse Mini with no sync issues. Just a FYI. Synced in BluOS just now for TV.
It is reported the MQA problem still exists.
What is this? I've had full MQA decoding with Roon on both NAD and Bluesound products for a little while…
From what I've been told MQA files passed from Roon do not do the full MQA decode with BlueSound devices.
It does on my Pulse 2
It seems like the Pulse Mini has an issue. The Pulse 2 is fine. Pulse Mini no longer rendering MQA.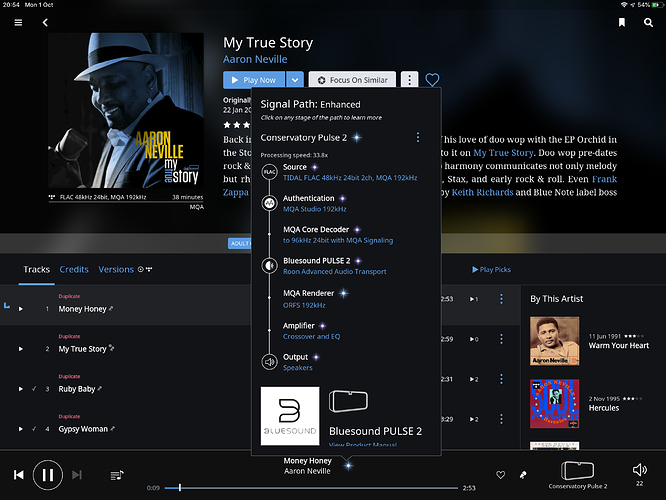 The flex is also not decoding Mqa from Roon.
@support I am sure my Pulse mini used to work with MQA before this latest upgrade?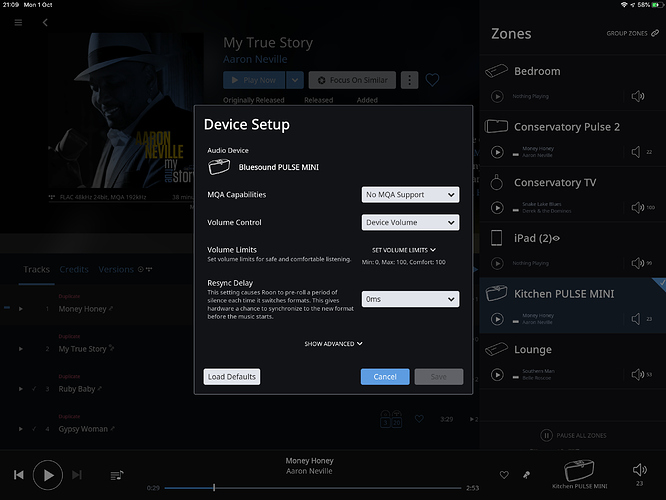 If I change the setting to Renderer the results is the same.
My Flex never did. But it's a known issue already reported to Blusound who were able to reproduce the problem. They gave me no date for a fix. I had hoped the 3.0 version would solve it. Still it's not a big deal for me. Still love my Flex and get the first unfold from Roon.
Ah, got it.
Well, given the inherent acoustic limitations of a $500 and under table-top radio, I find it extremely unlikely one would actually be able to discern any benefits from further unfolds above 96kHz. (no offense intended to anyone. I like those little speakers and use a Pulse and Flex myself).
Even on fairly expensive stereo's, I have found additional "rendered" unfolds above and beyond the Core decoding result in pretty darn subtle improvements in overall SQ.
I'd actually be amazed if there was any difference to hear on the full-sized Pulse. (easy to test: just turn off MQA within Roon setup on the Pulse set-up screen).
What's critical for me is that all the "non-speaker" Bluesound and NAD products now play friendly with MQA and Roon. (As far as I can tell).
Well. If my Pulse Mini worked before rendering MQA, I would really like it to work again regardless. I do take your point though. However, The Pulse 2 sounds bloody brilliant. Punches well above…
Regarding the sync bug: Today BlueSound released an update that should fix it (finally!).
Still have to test though…
[EDIT] Things are looking good. Haven't been able to reproduce the sync bug since the update.

Thanks Roon team for working with BlueSound to fix this issue.

My only issue was the breaking up of a speaker group (optical in from living room TV to Node 2 grouped with Pulse Soundbar playing in the kitchen) in the Bluesound app, and that the Node 2 and/or Pulse Soundbar had to be power-cycled in order to reappear in the BlueSound app. No such issues since the introduction of BluOS 3.4.3.
So can we assume that they finally updated the RAAT protocol in
BluOS? Are there any diagnostics that indicate what RAAT version it's running?