Core Machine (Operating system/System info/Roon build number)
Intel NUC with Roon ROCK Version 1.7 (build 667) stable
Network Details (Including networking gear model/manufacturer and if on WiFi/Ethernet)
BT Smart Hub accessed over ethernet/powerline.
Audio Devices (Specify what device you're using and its connection type - USB/HDMI/etc.)
Various devices, all play back OK with existing music files. Roon Remote works fine on smartphone.
Description Of Issue
Since installing a BT Smart Hub I am unable to add new music to Roon as it cannot get access to the internet to obtain metadata – see attached image. I have tried all sorts of different network settings without success, including using a fixed or dynamic IP address, etc.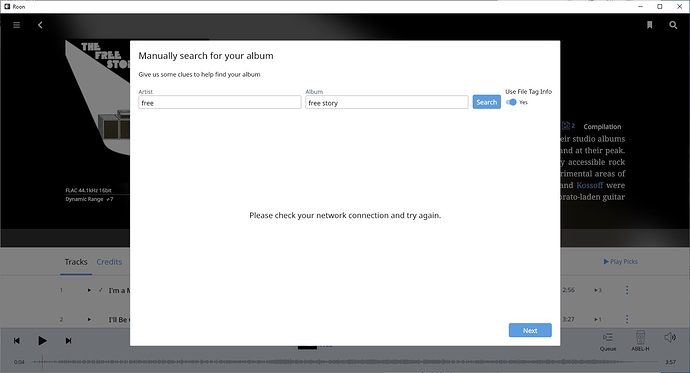 I have Roon Client installed on an Intel NUC configured for dual boot (Windows/Linux). I boot into Windows 10 for Roon management (adding music, editing metadata, etc.). Used to work with the old TP-LINK router until it apparently died but I am unable to judge whether the error lies in the router, the network settings, or some other PC hardware. I can access the internet fine via Firefox (doing it now).