For devices that are multifunction (DNLA and RAAT and Airplay) you need to go into that device to tell it how you want it to behave. Once it is set to Roon rather than Airplay you should see it as a networked device in Roon.
At the time of this post NT-505 is not Roon Ready yet.
You can either use AirPlay via network as you're already using - which limits the audio to 16/44.1. Alternatively you can use the Roon Core machine to output USB to NT-505, this will unlock higher sample rates.
Or use a device, such as RPi or Allo, as a transport.
The NT-505 Roon Readiness is going to come in a future firmware update.
I also think that the TEAC NT 505 is not ready for ROON and will need a firmware update. In the meantime I will use TEAC HR Streamer.
Thank you all.
Not even a 'coming soon' entry on the Roon Ready devices page either. At least the MQA update has been done, so hopefully it may not be a long wait. However, I would be interested to hear any comments about the NT-505 in general.
Can't get it in America, at all.
I am quite confused:
On the german Teac web page it is clearly stated that the NT-505 is Roon ready. It does not say "will be", it says "is".
I was about to purchase this DAC, since it is a bit cheper than the Mytek Brooklyn DAC+ and has a network connection.
Honestly, this whole Roon ready / Roon tested / MQA decoding / MQA unfolding stuff is everything but customer friendly.
Big mess.
Here a screenshot from the Teac NT-505 web page: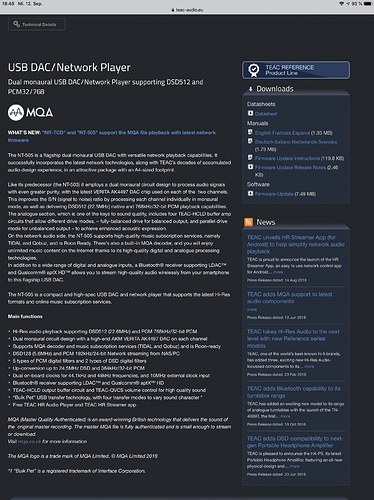 I guess the people to ask is TEAC, not Roon.
Let us know what you find out.
It's a future software update for Roon. It's just got MQA via a recent update. There is usually a small asterisk next to the 'Roon ready' comment in TEAC's spec list.
I listened to the NT-505 at the dealer , and it sounds very good.
Sounds better than my aries mini, bluesound node2 and allo digione.
I want one but i'm not going to buy it until the roon ready firmware is released.
I'm hanging around for the same thing. I must admit I would prefer updates via internet rather than having to download files onto a usb stick snd then update manually.
I just read that MQA decoding only works with the network and not with USB or any of the other digital inputs.
That's disappointing in a product of that price. Where you see that?
That's correct. The reason is that the MQA decoder runs on the network board processor, as it supports native Tidal. This is not uncommon. It's the same case with Esoteric N-01 / N-05, TEAC NR-7CD. I believe PS Audio DS / Bridge II product is similar in this respect.
Hmm, wonder if MQA processing is handled the same way on the iFi Pro iDSD.?
The USB interface for the Pro iDSD.
Any update if TEAC NT 505 is roon ready? I am going to buy it.
https://teac.jp/int/product/nt-505/top
…
On the network audio side, the NT-505 supports high-quality music subscription services, namely TIDAL and Qobuz, and is Roon Ready.
At the moment, I am waiting to see also the NAD C658 which looks like it will compete with the TEAC