Ordered a TEAC NT-505 yesterday , estimated delivery november 14.
Hello,
For those that know this, or if you own one, can you help me out (besides what i'm reading here about current Roon support by the TEAC NT-505 unit)?
Does NT-505 have 1/4" (6.3mm) or 1/8" (3.5mm) headphone jack?
And does the headphone jack support balanced headphone connections?
The specs online says 1/4" (6.3mm), TRS. But its manual document says 1/8" (3.5mm) and shows pin out of the plug as if it's TRRS, balanced connection.
Anyone know this, that can confirm whether i can connect using balanced connection to the headphone?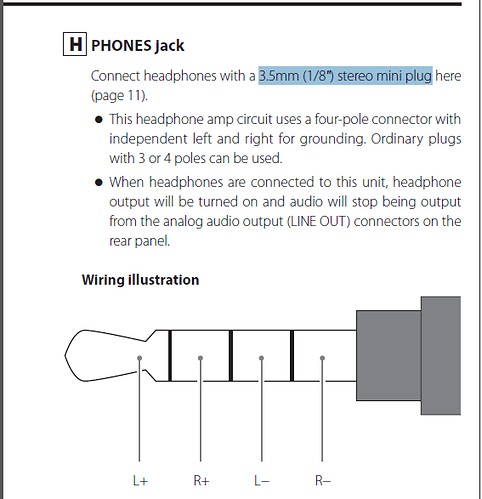 But the spec says otherwise,
https://teac.jp/int/product/nt-505/spec
Headphone output jack 1/4" (6.3mm) Stereo TRS×1

Thanks much.
My NT-505 has got a 3.5 mm jack.
Thank you for confirming.
Are you using headphone with it, balanced headphone connection?
Thanks much.
I don't have a 3.5mm balanced cable,my headphone has got a 4 pin XLR balanced connector.
Updatet the network firmware to the version released earlier today and my NT-505 is RoonReady.
Still need to update the device firmware, but windows defender gave a virus alert when unzipping the file.
Need a micro usb cable to update, still looking for one.
Found a micro usb cable,ignored the virus alert and updated the NT-505 device firmware to V1.21.
Roon now does work properly with TEAC NT 505.
PCM upto 24/192.
DSD upto DSD128.
MQA full decoder.
Volume control in Roon.
I switched the output to variable and connected the Teac to the external preamp input of my Denon PMA-2500NE.
Sounds awesome, the teac is also a very good preamp.
RoonReady firmware for the Teac nt505 Is released today.
So now we need a comparison to the NAD C658 when it lands.
Windows 10 Defender found virus in the downloaded ZIP file.
If you only do the network firmware update with the streaming app on your tablet, that already gives you the roonready update.
You don't have to do the V1.21 device firmware update.
Is above a hardware limitation that prohibit DSD256 and PCM 352Khz/32-bit from being supported in network streaming? Thanks.
https://www.teac-audio.eu/en/products/nt-505-149454.html
Main functions
Hi-Res audio playback supporting DSD512 (22.6MHz) and PCM 768kHz/32-bit PCM
DSD128 (5.6MHz) and PCM 192kHz/24-bit Network streaming from NAS/PC
It is probably a hardware limitation of the network streaming module.
If you need higher resolutions connect the roon core over USB to the Teac.
Rats… So close with NT-505…
What I mean is that they (many manufacturers) tend put some light weight ("cheap") computer module as a network interface implementation. That in turn imposes limits on the resolution that can be used over the network. Not necessarily because of CPU power limitations, but because of limitations of the I2S interface implementation. Like here they list that 768/32 PCM and DSD512 is only available over USB. Network interface is limited to 192/24 PCM and DSD128.
If you need the higher resolutions, try the Lumin U1 mini,it does 32/384 and DSD256 over the network.
Not trying to hijack this thread, but following Roon community thread is what got me first introduced to the Teac NT-505, as i'm mainly in need of balanced headphone amp,
Hence the TEAC NT-505 is ~95% perfect except at its network card, limits to dsd128 and 24/192Khz.

Only if its network input does dsd256 and pcm 384Khz.



So, so, so close… with its dual mono analog path…
I do have "some" dsd256 and pcm384khz sources, perhaps i need to make some sacrifice here…
My other streamer setup uses microrendu between mytek brooklyn and hqplayer/roon, but is mainly to drive pair of elac speakers.
Seems like the mytek brooklyn bridge streamer, at its network module, is even worse, only goes up to dsd64, wired.
Urgh…
That is why I bought the Teac , a one box solution.I don't own any DSD256 or PCM384 files.
My setup is 2speakers,integrated amp,turntable and the teac.
closing this out… looks like you need to be running v1.21 firmware to get Roon Ready support, and also this