Cheers, i will try it and get back to you

On second thought, I am not really able to limit the Devialet to 100 mbps from it's current setup location. Is there some other way to get around this issue without limiting the bandwidth on the Devialet?
@Christian_Fredrik_St I could be wrong but I believe some people with the Devialet are using Roon's implementation of Devialet AIR (not straight Devialet AIR but rather Roon's adaptation) with some success. That defeats the purpose of the Roon Ready (RAAT) implementation but, on the other hand, it seems to be rock solid with the Devialet platform.
Can you use WiFi? Wired to Roon Core, WiFi to Devialet. This works.
Thanks for the reply! I'll try this tomorrow.
As other users have mentioned here we are currently investigating an issue with Devialet regarding the RAAT implementation (main thread here: Audio file loading slowly since Devialet RAAT).
The 100 mbps workaround mentioned is not meant to be a permanent solution but rather just a tool to see if this is the same behavior that we're aware of and discussing with Devialet.
While our investigation with Devialet progresses you can try using the Devilaet Air driver to see if that works as expected. You can find more information on how to set this up by looking over the following guide: https://kb.roonlabs.com/Devialet_AIR.
Thanks again for your report here and I'd definitely suggest keeping a close on on the main thread I mentioned for any new updates. Do let me know how things are going with the Air version of the driver!
Thanks,
Noris
Hello again,
The customer tried the Devialet Air driver, both the ETH (ethernet) and the Wifi driver. This yielded no change in result. However, while using the Roon ready driver and wifi connection on the Devialet, it worked! @mikeb Thank you for suggesting this, I now have a satisfied customer. Hope this info will help others in their troubleshooting.
Cheers,
Christian
Duet Audio
This topic was automatically closed 36 hours after the last reply. New replies are no longer allowed.
Unfortunately, the Roon still stops playing music suddenly from time to time. While trying to reconnect to the device, the customer is stuck at the "choose your Roon Core" screen, with the message: "initialising". To get the unit up and running again, a physical restart is needed.
Any tips?
An easy workaround I found was to insert an inexpensive unmanaged 10/100mbps ethernet switch in front of my Expert Pro. I got one on Amazon for about $10. This throttled the ethernet speed into my Expert Pro to 100 mbps and the dropouts and errors went away.
Haven't a clue why this works, but it seems to. As Roon has stated, it's a temporary solution until they and Devialet can properly resolve this issue.
And this actually works, with zero dropouts?
That's what we're hearing anecdotally, but obviously it's not what we would consider a fix.
Devialet is still investigating this issue, as mentioned here.
It worked for me. I first stumbled on this by switching my network speed on my Win 10 PC running RoonServer down to 100mbps. At the time, I was just trying different things to see if anything made a difference. This did! Of course, I didn't want that PC running at just 100mbps since I also do backups there, so I put it back to gigabit speed and put the 10/100mbps switch in front of my Devialet. That also worked. No dropouts, no "audio file loading slowly…" errors.
I have heard from several others that it also worked for them.
Nope, not a fix, but a nice workaround until Devialet can get it resolved.
Did you also try the Roon-ready driver and wireless connection to the Devialet?
I did not try wireless because my wireless router is just a bit too far away from my Devialet to be dependable. Not sure what you mean by Roon-ready "driver". In Roon Setup Audio under Networked - I enable the following: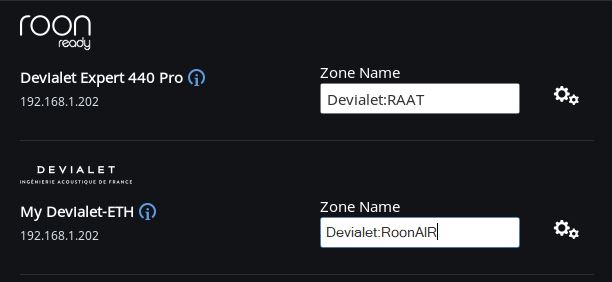 Roon AIR works fine when my ethernet into the Devialet is at either 100mbps or 1000mbps. Roon Ready works fine at 100mbps but I get dropouts and the "audio file is loading slowly…" errors at 1000 mbps - particularly with hi-res (24bit, 96kHz, or 192kHz) content.
Hope this helps…
Hello again,
I see. The customer has the same issue both with wireless and with cable, and with all the different Devialet drivers. He gets the Tidal loading slow error, as well as the Roon crashing, with a hard reset or waiting for a minute or two being the only way to get it up and running again. The only thing I actually can try based on your information, is to get a 100mpbs unmanaged switch to put in front of the Devialet. Hope it works! Thanks for the tip.
You mentioned this:
Can you please explain this behavior further? We are aware of the issue surrounding Devialet playback but Roon should not be crashing completely. Or are you referring to this "crashing" as the Devialet zone not working?
– Noris
@Christian_Fredrik_St With my Devialet Expert 220 Pro, and the help of people such as @mikeb, I've been able to successfully run Roon/Tidal either by wireless or by using a 100Mpbs switch. No go with a gigabit switch. On the 100Mbps switch that I purchased, it recommended no higher than a Cat5e cable. So be sure to look at the specs on the switch for cabling.
Hello Noris.
No, the customer looses connection to the Roon. And needs to wait a few minutes before it appears again, or if impatient, do a physical reset.