I'm glad to announce the release of Roon Extension Manager 1.0!
Earlier on I described my plans, and now the working out of these plans is finished! Besides the creation of the software itself and the setup script also the documentation on the project Wiki has been updated to the latest state.
A few highlights, before you all start reading the documentation:

Improved user experience by providing:

Possibility to modify installation settings without performing a full extension reinstall
Improved status reporting during installation, start-up, logs collecting, etc.
Simplified interface for collecting log files of installed extensions

Easy to use setup script (Linux), taking care of:

Setting up a service providing full update support, including Extension Manager updates
Preparing the system for special features, like the Auto Rip feature of the CD Ripper extension
Running the Extension Manager as a standard user

Multi architecture support, including:

Intel and AMD 64 bit
ARM 32 bit (v7)
ARM 64 bit (v8) (not every extension is available yet)
The 7.2 release of DietPi is the first that comes with Extension Manager 1.0 integrated, allowing a quick install or upgrade via its dietpi-software tool.
If you have the old Extension Manager installed and you update to DietPi 7.2 then it will notify you about the available upgrade for the Extension Manager, but it isn't forced on you.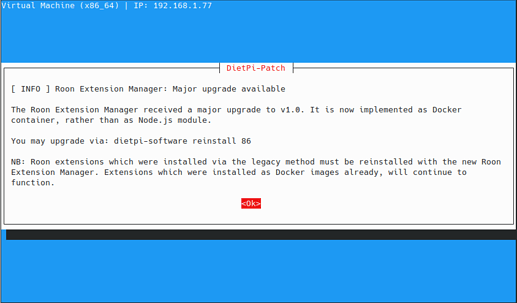 Please let me know what it is you are missing, what can be improved and any other form of feedback, I'm looking forward to it!