Roon Core Machine
Roon Nucleus with internal SSD and external SSD
Networking Gear & Setup Details
QNAP QSW-1208-8C-US 12 Port Unmanaged 10GbE Switch Twelve SFP+ with Shared Eight 10GBASE-T Ports
Connected Audio Devices
MSB Premier DAC, hardwired Ethernet
Ayre QX-8 DAC, hardwired Ethernet
Chord Qutest DAC, connected via USB to 27" iMac
Chord Hugo 2 DAC, hardwired Ethernet
Number of Tracks in Library
My library: 70,723 tracks; 2,859 Albums
Description of Issue
Roon has recently (past week) freezing up during searches while I'm playing music (my hi-res audio files) or streaming (I subscribe to both Tidal and Qobuz) music. I've attached a screenshot to illustrate the problem: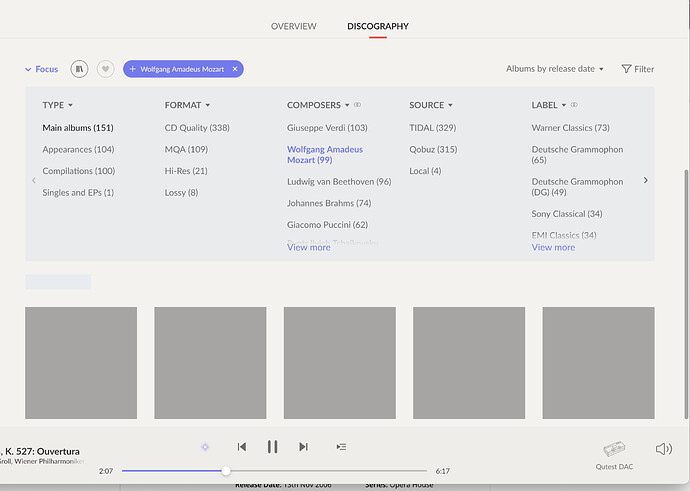 You can see I'm playing a piece of music and searching for something else using Focus. But no album covers appear, only blanks. This isn't a question of Roon search being sluggish; nothing appears. And when I click on play/pause button to stop playback, nothing happens – the music continues to play. Roon is frozen. The only way I can usually resolve the problem is to close Roon and then re-open it. The music then stops and I'm able to resume searching for what I was looking for.
This freezing up occurs even when I'm not playing music. Here's a couple of screenshots to illustrate that problem: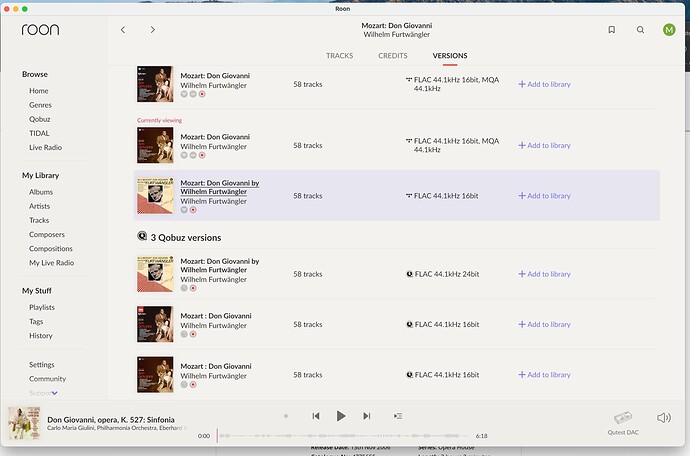 I'm looking at different versions of Mozart's Don Giovanni conducted by Wilhelm Furtwangler and when I select one of them, it doesn't open up. What I see is the flashing Roon icon (equivalent to Apple's spinning globe). The problem doesn't resolve itself – and the only way I can resolve it (usually, not always) is to close Roon and then re-open it.
I should add that the freezing occurs while I'm using my 27" iMac (running macOS Big Sur 11.6.1) as the Roon remote. The iMac is hardwired to Ethernet and has 48 GB RAM. I mostly use the iMac as my Roon remote, but occasionally use my iPad Pro or my iPhone 13.
I'm a longtime Roon user (5+ years) and have had virtually no serious problems during the past two years. My Internet speeds continue to be fast and freezing or dropouts virtually never occur when I'm playing or streaming music.
Any thoughts you might have on what is causing this problem and how I might resolve it would be most appreciated.
Mark Salkind