Agreed…both workarounds are kludgy at best. Thanks for sharing your advice. Hopefully there will be a fix soon.
Never mind. I see you use Alt-Tab.
For what it's worth I experienced this issue of Roon not responding on startup on day 1 of my trial. I was so close to packing it in after uninstall/reinstall, reboots, vid driver updates. Nothing worked. I uninstalled and then installed the 32bit version an got the GUI up again. For what its worth, the server/core was being recognized (on other devices) but the program itself on my main PC was "not responding". I see such potential in this platform but I will only persevere for so long before I just go back to BlueOS. I have a NAD M33 on the way, along with multiple devices. Lets go guys. Figure it out.
Very late to this thread BUT
Are any of the offending setups using 2 screens. I have my core on a NUC/ROCK set up now (6 months) and my Windows 10 PC is acting as Remote. I have never notice Roon freezing (to my knowledge) . I do have a habit of closing unused apps to maintain RAM , a throwback to using 32 bit machines at work.
I have 2 screens all the time (ex dev) Roon lives always on my RHS screen the other is used for all sort of general stuff, mail, internet , anything else computing in my life.
Maybe its because I keep the Roon screen maximized .
Until very recently this PC was powered down overnight and restarted in the morning as was the core. Currently its been up for around 4 days with no issues . Maybe a good reboot will clear some cobwebs.
My PC is a bog std Tower desktop Windows 10 64 bit Home edition (fully updated) i7, 7700 , 16 Gb RAM, 256 SSD then a load of HDD 2x 4Tb, 3x 3Tb
On boot it starts JRiver Media Server and SQL Server . Roon is started manually , Roon is 64 bit FWIW
It's not an issue if you keep your Roon screen maximized.
Sorry @Jim_F , a bit late what was your workaround, to keep the screen active ?
I do in fact have dual monitors.
I'm not prepared to keep Roon maximized. Bottom line there is, if it isn't going to work the way I want, I'll stop using it. For now the 32bit install is working fine. When a new build comes out I will try again to install the 64bit version.
Yes, I run Roon in a window and never minimize it.
I think you can keep Roon Maximized on a different virtual desktop, and just flip between desktops. In fact, you can set it so that the Icon on the taskbar will automatically move you to the other desktop.
Let's hope Roon 2.0 includes a fix for this.
my roon core crashes very often /what to do
In order for Roon's support team to assist you better, please provide a brief description of your current setup and the nature of the issue using this link as a guide.
Make sure to describe your network configuration/topology, including any networking hardware currently in use, so they have a clear understanding of how your devices are connected. Thanks.
pc intel i38 /8100cpu/3.60ghz/ram8 gb/fiber net d link dvg-n5402g/net speed 300mhz/ remote-ipad pro anad iphone 10xmax/ problam acure while minimizing roon icon/ happen very often roon shut down/happen 3 hours ago/storage wd mybook 3t/audio -ayre 8x dac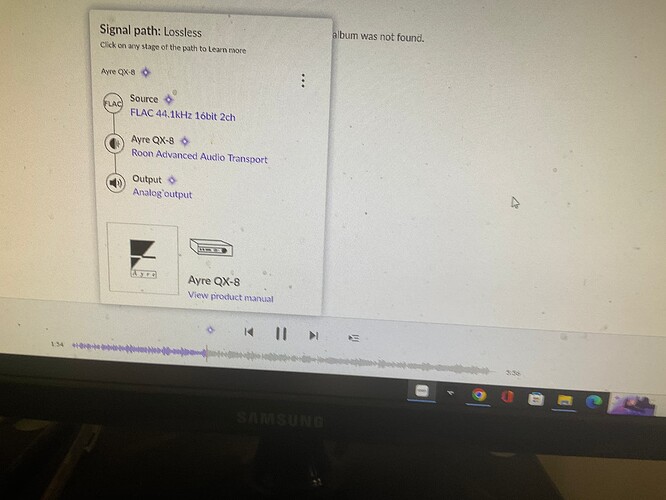 I assume (because you haven't said) that you are using Windows (10 or 11?) as the OS on your PC rather than a ROCK install?
I say this, because you seem to be describing the issue as occurring when you are "minimizing roon icon".
It sounds like this issue, which Roon Labs are investigating:
Right. I've moved your posts into the existing issue thread to keep things together for the Support team.
Well it took a full day but now the 32bit version has done the same thing. The RAAT server starts no problem but the application itself just hangs on startup. I've had no problem with the application on my other PC (non core), also running WIN10.
Hi everybody,
Once again, the team would like to extend our thanks to the affected users for your endless patience and diligent reporting as we've worked to pin down and eliminate this bug. This issue has proven difficult to reproduce, but with your assistance, we do believe we have a modest update to provide.
After a deep investigation with QA and our developers, the team is going to test a set of changes internally to see if it relieves or resolves symptoms for affected devices. We'll keep you updated on the status of this potential workaround or fix, with full sensitivity to the frustration felt by those of you who have been unable to reliably use Roon on affected devices for quite some time.
Thank you again for your patience, and we'll report back shortly as soon as we have additional information.
Thank you for the update and efforts on this. I look forward to enjoying Roon fully as I used. Thanks !
Thank you for the update guys.
Really appreciated!

It happens when roon is maximized and minimized to taskbar for longer period of time.