Core Machine (Operating system/System info/Roon build number)
Problem experienced on two different Core-Machines:
Main Roon Server: Silent Angel Rhein Z1, current Software, Roon Build 528
For testing: iMac Pro running macOS 10.15.3, Roon Build 528
Network Details (Including networking gear model/manufacturer and if on WiFi/Ethernet)
Both Cores are attached to a FritzBox 7590 Router by LAN cable
Audio Devices (Specify what device you're using and its connection type - USB/HDMI/etc.)
Description Of Issue
Hi there!
I am currently using a Roon test licence, but I am definitely going to buy, when the test period expires. There is just one thing, that puzzles me:
When I started my test period, Roon Radio worked as advertised. But since a few days, I am getting error messages, that there was an "unexpected error" and "Roon Radio will be limited to the local library. It could not find any music via Qobuz.
There was a similar thread here, but it did not provide a solution for me:
https://community.roonlabs.com/t/trouble-with-roon-radio-qobuz/76772/14
In the meantime, Roon Radio even does not work with my local library anymore. Please see the attached screenshot.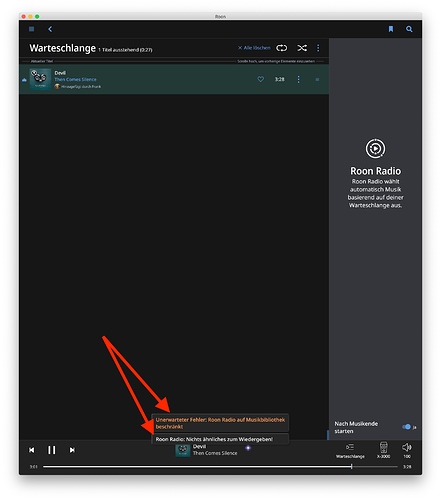 The same problem applies to the two servers mentioned above. Restarting does not help.
Both Cores are attached to a FritzBox 7590 Router by LAN cable. I am currently using the following devices. See Screenshot: