No. Don't ask unless you want to keep hearing "soon"…
Is it time to give up on Platin?
Are there manufactures of ROON READY wireless hubs that play well with Buchardt?
Platin's hub team just don't have the resources to work on multiple features in parallel. My guess (and it's just a guess) is that the development team is a single developer.
Currently their priority is resolving the dropouts, so they have been working on a new hub firmware, speaker firmware and app feature to resolve this.
I'm sure once that is finalized and released then Roon Ready will be the next priority.
Regarding other options, i use a Roon Ready Bluesound Node 2021 connected to the hub over optical and it has been rock solid.
I have a raspberry Pie with Ropiee, too… Connected to the hub via USB. How does volume control work for you? For me it is a nightmare. Did I configure it the wrong way?
Buchardt Hub? - Who knows when that will be available but until then I'd like to know more about the raspberry Pie w/Ropiee! "Less than 100 euro and works perfectly." - Perhaps this is a solution until a proper hub is available. - Can you give me more information?
Buy a Raspberry Pie 3 or 4. Buy a micro SD card and flash it with RoPiee OS (use balena etcher) and you have a little RoonReady endpoint to connect with the Buchardt hub via USB.
Runs absolutely stable, sound well but personally I never got the volume control running to my satisfaction. Maybe @Paul_Hermans can help us here?
The hub's volume control is broken over USB. I've raised it with Platin and wasn't filled with confidence that it would ever be fixed.
So they even block the workarounds… I am really starting to wonder what the guys at Platin do professionally!? Can't be audio development…
Roon Ready, not possible because they don't get things done they promised in August 2020 already… Workaround with Roon ready raspberry pie not possible because the volume control over USB doesn't work. gapless playback with Roon via chrome cast doesn't work…
The A500 sound so much better with the RoPiee over USB compared to Airplay or chromecast… And Platin doesn't even get that to work. Probably the worst product I have ever owned.
I guess I'm lucky then since I can control via Roon the volume over USB. The only remark I can make is that the increase/decrease of volume doesn't seem always in sync with the change requested in Roon. This could be better, but no showstopper for me.
Thanks for the info itzlbritzl! I suspect I'll give the Raspberry Pie a try.
That's why I said it was broken - you can very roughly adjust volume in the Roon app but you don't get all 100 steps.
I agree, the steps are too large… one step too soft, next step already actually too loud. Really annoying. Is there actually anything which Platin got right?
I think they just don't care enough. What even is Platin's motivation to deliver a quality product when nobody outside of a few Buchardt and SA customers own a hub?
They literally changed the WiSA hardware in later revisions of the Buchardt speakers and didn't bother checking it was compatible with the current hub/speaker firmwares; which it wasn't. That is just pure laziness or ineptitude.
I really wanted a pair of A500 speakers and the early reviews were excellent, but the longer I watched the more I got the impression that nothing was happening with the software, and these days that is at least 50% of the package.
They are not alone with Hegel, Dutch and Dutch and Zen really struggling to release and decent updates and I'm sure there are many more as well
@kwangomango my only hope is that there will be one acceptable firmware version, so I can freeze the hub forever on that FW version, configuring my router so that the hub cannot ever automatically contact the internet and automatically perform update which will probably change everything for the worse again.
Sp frustrating because theoretically the Buchardt package is still so great considering sound an flexibility. And for most people who use airplay or chromecast anyway it probably still is… Mine worked with RAAT in the first place until Roon killed it. Going from there to chromecast or airplay has been a huge downgrade considering sound and stability.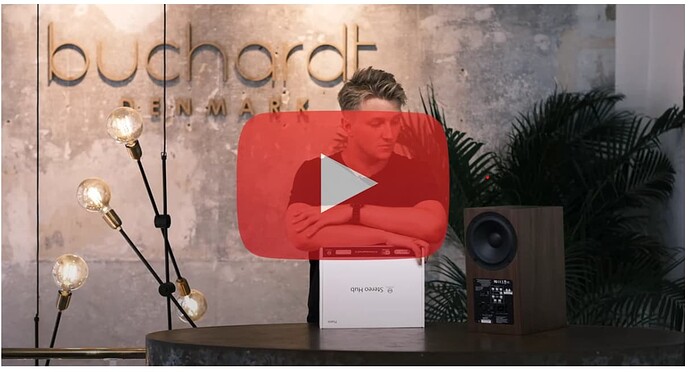 Perhaps this image says it all - notice the orientation of the Stereo Hub box on Mads A500 setup video.
Got a message from Buchardt today that they will begin offering combo packages with the Primare SC15, however without built-in room correction.
I've been using a raspberry pi 3B with a pi2AES hat - going into the Platin hub via SPDIF (Coax.) The Pi2AES/Pi streamer was already set up in Roon as a streamer and I just moved the output to the Platin hub. Works just fine, and I'll wait patiently for Roon certification, or better yet - the Buchardt preamp which will show up eventually. Don't want to give up the room correction features.
Also Buchardt are announcing the SC15 to be RoonReady 'soon'. But as a matter of fact the NP5 streamer today is their only RR device. Primare's certification process seems to be a slow affair. See the related threads here (or Hegel's). I am not saying this pre-amp is a bad product. I just wouldn't buy based on an announcement if Roon Readiness was important to me.