Roon Core Machine
Roon server
Networking Gear & Setup Details
I don't use VPN in my home network.
Connected Audio Devices
All endpoints are connected to the core via my home network.
Number of Tracks in Library
I have only 6 to 7 K tracks in my storeage.
Description of Issue
Roon server started become Not responding when I check it in the sys tray on my server. None of my phones, PCs, tablets running Roon Remote sees the core. Server PC specs and Roon server status are in screenshots attached.
I reinstalled the latest Roon Server, reboot the server PC multiple times and no improvement.
I then tried installed Roon software on the same server PC and using it as the core and my Roon remote on my phone can see it as the core.
Roon Server not responding: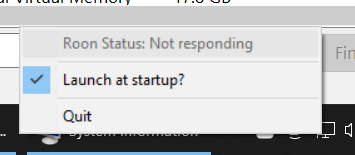 System specs: