Thank you noris,
I try it.
Hello noris,
Today`s morning at 7:05AM Roon stops with LINN.
At same time "Request Timed Out" errors appears in command prompt .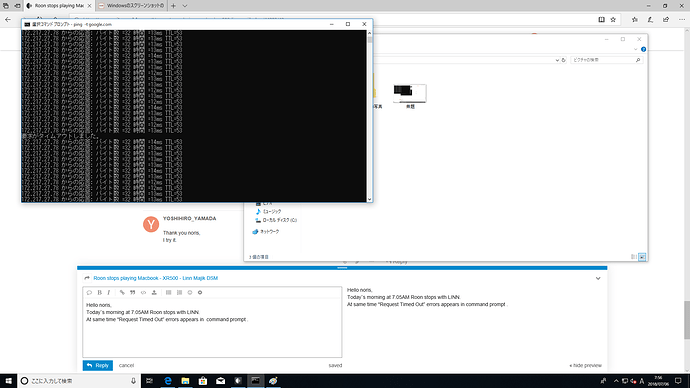 Hello @YOSHIHIRO_YAMADA,
Thank you for running that test for me! We are definitely making some progress here - it definitely looks like something is going on with your connection or network. Since the "Request Timed Out" appears at the same time as the music stops on your Linn, this is almost certainly a problem with the network, as a consistently unstable connection can definitely cause issues with Roon streaming music.
Now, the next steps here would be to try with a different network modem, or to contact your internet provider and let them know that you are experiencing internet dropouts. They can check to see if the signal of your internet connection is stable and possibly replace the modem you have from them for a newer model to increase stability. I would show them that ping test that you were running and document how many times a day you lose connection as evidence of an unstable network connection. After they have fixed your network then the Linn playback issue should be resolved and you can enjoy the music without interruptions.
Please let me know if you have any other questions, I am glad that we were able to get to the bottom of what was causing the issue and using the suggested fixes above should resolve this problem.
Thanks,
Noris
Hello noris,
I hope that Roon don`t stop anymore.
Thanks,
YOSHIHIRO YAMADA
Hello noris,
Today stops Roon at 6:50AM.
Hello @YOSHIHIRO_YAMADA – Thank you for the additional feedback! The continued insight is appreciated!
Before continuing forward, can you please confirm for me if you have tried running any of the tests proposed in my previous post? If we are seeing time out warnings this does seem to indicate that there is an issue occurring somewhere in your environment. Having the results of the those tests will help determine what our next steps should be.
Looking forward to hearing the results!
Thanks,
Noris