So, at the moment i have some major problems with roon.
The first one is reported here:

it seems that what is displayed in terms of composers under a track (with settings = merge file tags and roon metadata) is completely ignored by roon, that considers only his metadata for the composition. i have dozens of albums where a shown composer do not link to anything, because even if he/she is in file tags, even if it's shown near a track, it's not considered as a composer by roon… (for that albums/composition… so maybe links to something else)
then, here i have a different (but similar) problem. this is the last tracks of an album by malmsteen (inspiration).


if i look at different versions of last track (child in time), i obtain: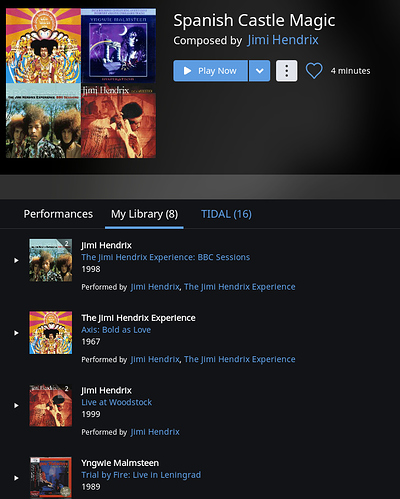 so? what's wrong? the point is that roon has identified the album, but metadata are wrong, reporting that last track is "spanish castle" (it's not really important here the wrong metadata, this is not the problem). i simply did not notice because in my settings i've told roon to always prefer file tags for track title. but this turns out to be a complete fake, as actually roon only shows the file tags, but ignores them completely (title and composers). so, as usual, things could be ok when roon metadata are correct, but when they are wrong (and, in one point or in another they are ALWAYS wrong), you get inconsistencies like this.