I don't curate much or even look at album versions, credits, etc., but I noticed the following.
Searched on Joan Osborne and selected 'Relish' from the returned list. Listing 'Versions' from the resulting Album page gave me this -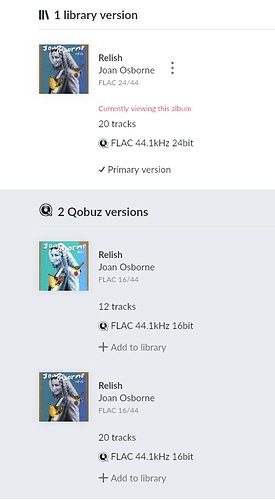 But wait, I have 'Relish' on a local disk.
If I set 'Focus' to only look at my storage, sure enough there's Joan -
If I select from there I get -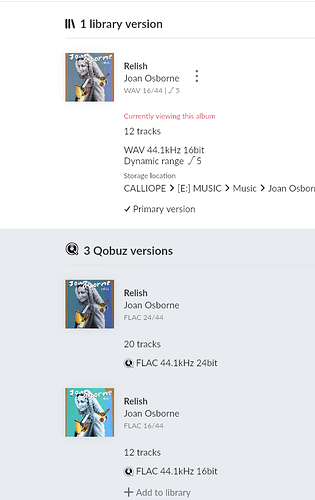 Almost what one would expect, except in the first instance Roon believes there are two Qobuz versions and in the second instance Roon believes that in addition to my local version that there are also three Qobuz versions.
Don't know if this was always the case or if it's due to V1.8. I feel I must have a switch set wrong or not set at all, as the case may be. I can't believe an error as obvious as this got thru beta.
The problem is that if I want to play the local version, I have to use 'Focus'. How many other local rips are like this? Dunno, without going thru, in my case, about 400 albums.