Hi there,
I'm a new user currently on a Trial of Roon and trying to see if it fits my needs. I'm having trouble configuring my audio device in the application.
I'm using an M-Audio FastTrack pro USB DAC, on Mac OSX 10.13.4. The device has 4 channels of output (2 stereo streams), and in the Mac Audio Midi setup, as well as other applications that I use for DJing, the device appears as 4-channel, where I can then assign streams to each of the 4 outputs (2 pairs of L/R channel).
I'm trying to accomplish a similar setup in Roon where I can use the Procedural EQ Mix functionality, to send the Left/Right audio signals of my music to both streams on the device, and equalizer them separately, resulting in 2 sets of stereo line outs that I can send to my amplifiers.
Following the guides, I see that in the Device Setup, there should be an option for Channel Layout, where I can switch the default 2.0 Stereo to Quad/5.1, and then be able to assign that channels in Mix. However, in my Device Setup page, I do not see the "Channel Layout" option as it appears in the documentation.
Here's what I see in my settings: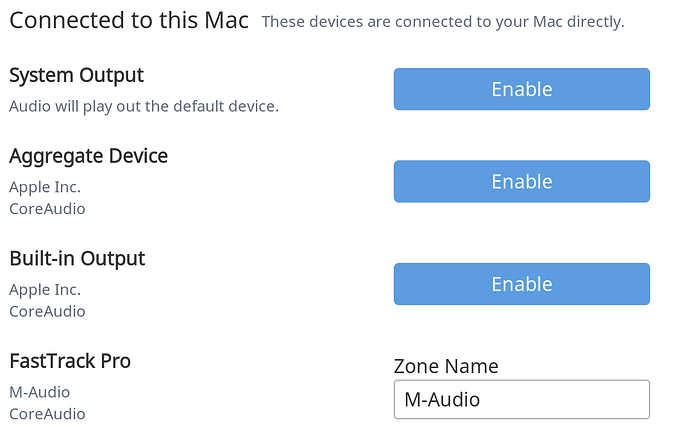 @support
, Any help would be appreciated, thanks!