I'll sort some out over the next day or two - its a Project RPM10.1
Excellent choice in music as well, judging from Depeche Mode on the TV. BTW, "Little 15" has always been one of my favorite songs of them.
Sweet sounding Raytheon/Baldwin 6SN7's and 12AU7's.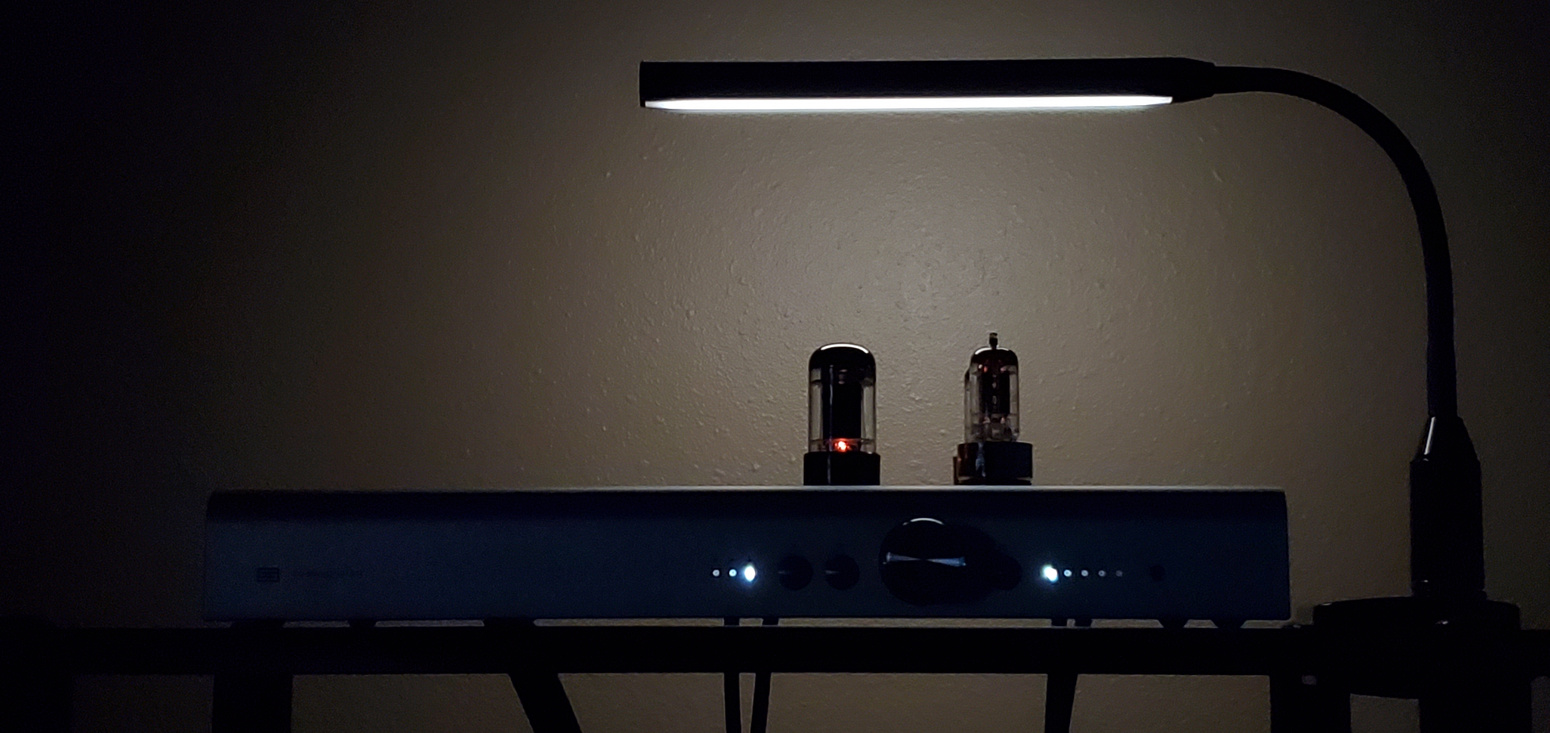 Thanks for getting back to me. I was referring to the design of your room
Finally wrapped in new clothes and running nicely - awesome grip in the lower registers with liquid mids and pristine highs, no matter at what level.
That's a very neat and tidy layout.
I was surprised by what appears to be a smallish gauge cable from the IEC to power supply. It may just the photo. Do you know the size of the conductors?
Thanks for sharing.
Update: Image refresh Feb 5th. Better photos of the gear.
Hi Folks… I'm enjoying seeing your audio setups. So many great rooms. I've finally gotten around to taking some closeup pics of components in my setup since moving into the new house last autumn.
This is pretty much my end game system for the new space. Some of the components are quite modest, but as a whole the setup sounds beautiful. The power conditioners were pieces I already had and I couldn't justify spending $$$ on upgrading them. I put those funds towards the newer components. Technology has come a long way the past 10 years. Because of COVID and moving to a small town, this is the first system I assembled by ordering components online from Canada, France, Germany, Hong Kong, USA. I live in Canada. Has been an enjoyable trip.
If I can answer any questions feel free to ask. Cheers.
Power / Signal Path:
APC H15 → Mistral Audio W-3900 → Custom Roon Rock Server → Silent Angel Bonn N8 → miniDSP Studio → Mutec MC-3+ USB → Devialet Phantom II 98dB

from the picture, i'd say that the ones from the ps pcb near the power switch to the output stages are 14awg (you can read it), and thus that the iec socket to ps pcb/pwer switch are 16 or even 18. probably totally adequate, especially if the power rating is 50W or so, but yeah, maybe 'smallish'. fwiw. looks great in general, though, nice job. seems efficient in the runs and good section separation. what do you call it?

The man's got good zoom here…
AC wiring is 1mm² (~18 AWG), good for up to 16A but fused for 5A.
Power supply to DC splitter are 14 AWG (~2mm²) doubled up, good for up to 25A each.
DC splitter to amp boards are 18 AWG (~1mm²) doubled up on plus and minus legs with ground quadrupled, good for up to 16A each.
The amp is rated for 2x580W@2Ω, 2x400W@4Ω, 2x200W@8Ω.
AC wiring is more than adequate while carrying 5A@240V@1200W power supply max specified power.

hahaha! excellent. didn't even think about them doubled up. of course. nice. 200wpc/8Ω, sweet.
My setup, mainly AN…
AN Meishu
AN E Speakers
AN DAC
Antipodes EX
Audeze Headphone
Auralic Headphone Amp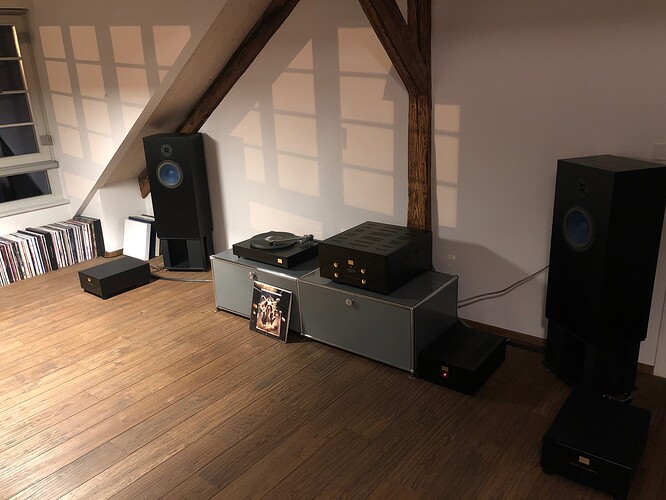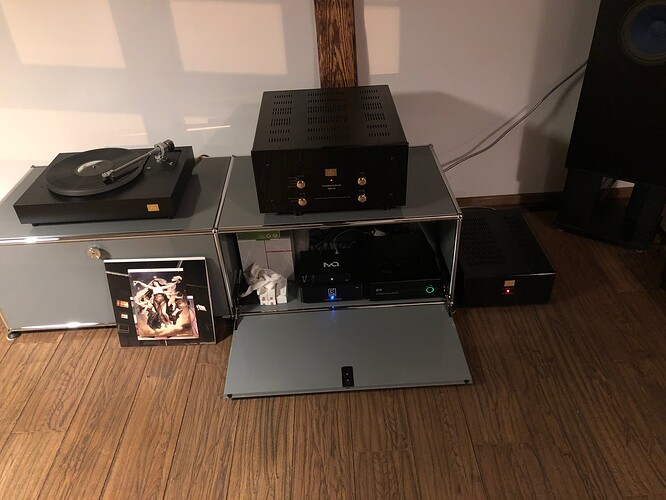 Secondary Zone is AN Zero with Aargon Solo and Wharfdale - pretty neat…
Just when I thought you were an audaciously, audiophilic "A" person…you lost me with the Wharfdale…

The Wharfdale Linton Heritage is brilliant for the money and in combination with Zero extremely good. For a bedroom sufficient

Nice gear. The only concern IMHO is the TT being placed on that USM-Haller tin sheet box.

works perfectly fine - no vibrations.
You could have for a double post out if this one, always space for a good dog and his musical setup in the four legged accoustical treatment thread
Quad Electrostatic Loudspeakers have entered the chat…
My main system comprises HiFi Rose streamer/pre-amp connected to a Bryston 2.5B3 powering a pair of Dynaudio Special 40 speakers. Also shown in the photos is a Roon Nucleus, Melco switch and a Sennheiser HDV820 headphone amplifier that gets used with a pair of Sennheiser HD800S headphones.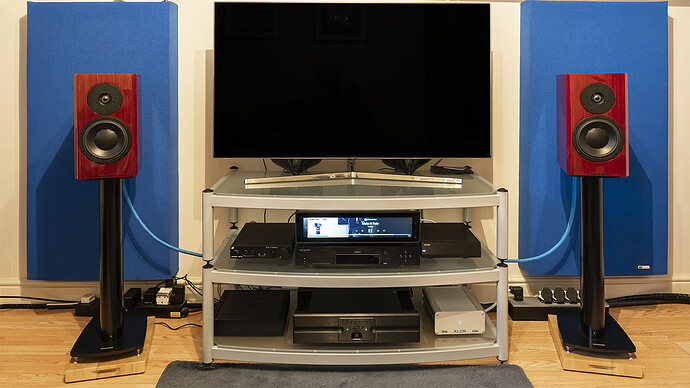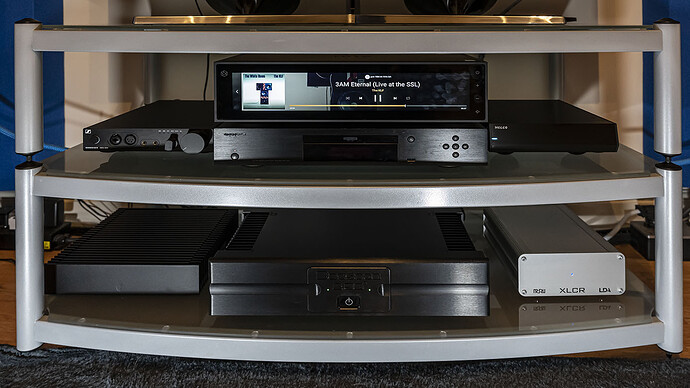 I also have a desk system comprising a Cambridge CXN streamer connected to a pair of active Dynaudio LYD5 speakers.