Roon Core Machine - Networking Gear & Setup Details - Connected Audio Devices
Roon Server Core:
Roon Server version 2.0 (build 1223) production (64bit)
Windows 11 Home Version 10.0.22621 Build 22621
Silentmaxx Kenko Mini S5 fanless PC
Asrock B460M
i3-10320 4x 3.8/4.6GHz
2x 8GB DDR4-2666
Samsung M.2 970EVOplus 500GB 3.5GB/s read 3.3GB/s write
Samsung USB-DVD and USB3-SSD
Win11 home auto-start
Roon server auto-start
Logitech Media Server (fall-back)
CAT5e UTP
Asus DSL-AC68U
CAT5e UTP
o2 HomeBox
VDSL 50 MBit-down / 10 MBit-up
++++++++++++++++++++++++++++
Living Roon:
Roon Server Core
USB generic
Intona USB 2.0 Hi-Speed Isolator
USB generic
S.M.S.L M300 Mk2 DAC
DSD256 core up-sampling
variable balanced output
DIY FrankenAmp
2x Hypex NC400 with 1x SMPS1200A400
2x 200 Watt @ 8Ω
2x 400 Watt @ 4Ω
2x 580 Watt @ 2Ω
SNR: 125dB @ rated Power
THD+N: 0.0007% @ 1/2 rated Power
DIY full-range line-source speakers
25x 3" drivers per channel @ 8Ω
Speaker/room correction via REW inversion-method convolution
Roon-Dynamic-Range-Metering-Bridge
RaspberryPi 3B+ 7" touchscreen
RPi-OS 32-bit bullseye desktop installation
Roon bridge
ALSA-loopback
Real-time accumulated EBU128 loudness range meter
Bob Katz's level and stereo-correlation meter
Spectrum analyzer
5GHz WiFi
Sound Visualizer and Roon Web-Display
RPi 4B 7" touchscreen
RPi-OS 32-bit buster-lite
Bare-minimum Chromium/Openbox/Xserver install
Roon web-display customized layout
LED illumination via microphone input
5GHz WiFi
++++++++++++++++++++++++++++
Cooking Roon:
Roon version 1.8 (build 1125) stable
RoPieee 2023.02 (0746)
5GHz WiFi
RPi3 B+ HifiBerry DAC HAT
Creative SoundWorks 745
Boombox
++++++++++++++++++++++++++++
Bed Room 1:
Not associated with Roon
Squeezebox Touch
2.5GHz WiFi
Medion Soundbar
++++++++++++++++++++++++++++
Bed Room 2:
Not associated with Roon
Squeezebox Radio
2.5GHz WiFi
++++++++++++++++++++++++++++
Bath Room:
Not associated with Roon
Squeezebox Radio
2.5GHz WiFi
++++++++++++++++++++++++++++
Remotes:
Silentmaxx Kenko Mini S5 fanless
Roon version 2.0 (build 1223) production (64bit)
Windows 11 Home Version 10.0.22621 Build 22621
FLIRC USB remote receiver
All4one URC 7935 Streamer remote
CAT5e UTP Ethernet cable to router
Dell XPS13 9343
Roon version 2.0 (build 1223) production (64bit)
Windows 11 Home Version 10.0.22621 Build 22621
5GHz WiFi
1+ Nord
Roon version 2.0 (build 1219) production
Android12
5GHz WiFi
++++++++++++++++++++++++++++
Qobuz Studio:
Available in ROON and LMS
Number of Tracks in Library
Description of Issue
In response to another thread, I entered "de la soul" in search, hit enter and instantly got …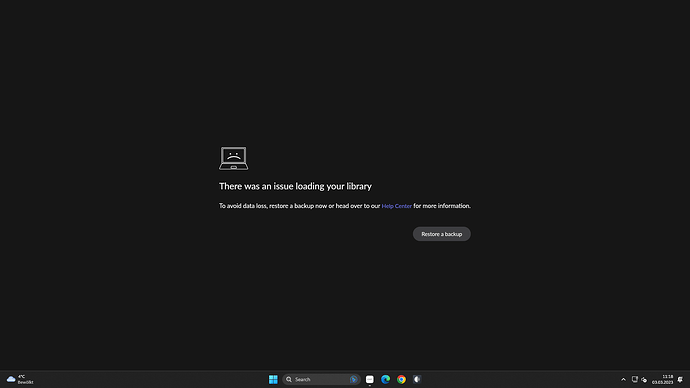 No alternative other than restoring last backup, which succeeded, but needed updating since it was from last release.
Then core connection problems and constant cycle of refreshing "Home" screen on remotes making usage impossible.
Closing/restarting remote and core applications didn't fix behavior.
Reboot of core computer finally brought back functionality after some fiddling with not finding core etc.
So, I'm up and running again, but would like to understand what happened.
I'd appreciate some response, if you find any time at all, and thanks for reading through this…