So this is my weekend. Wife and kid are out of town and I get to test B&W Formation Duo.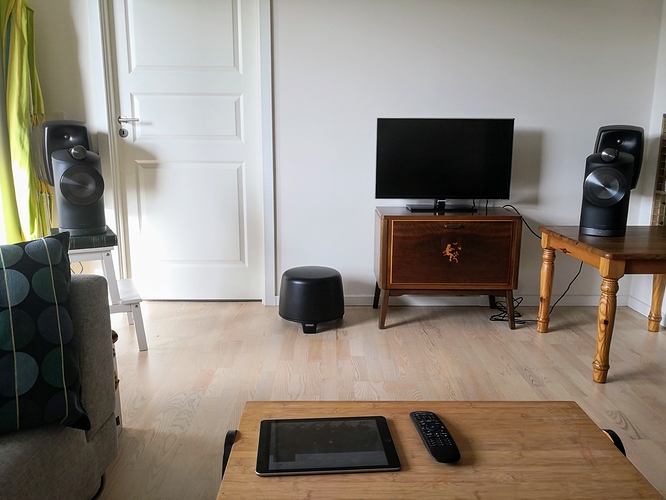 I'm in the looong process of buying new speakers. I've got my heart set on active bookshelf speakers with a sub if needed. My aim is less boxes but it seems that a lot of these active speakers need a box of some kind. My listening space is not optimal and I can't place the speakers or listening position far from walls. Therefor some kind of DSP to compensate for less than optimal placement would be preferable.
I wish my budget stretched all the way to Dutch & Dutch 8C or Kii Three but 7000€ is my absolute max. Ideally I would like to find my own sweet spot for diminishing returns. A concern is spending a lot on "new" technology that may be commonplace in much cheaper speakers in 5 or 10 years. My current speakers are Genelec G Four with the F-Two Sub.
On my short list is for new speakers are:
Genelec 8351
Dynaudio Focus 20 XD
Buchardt Audio S400 active (Not released yet)
B&W Formation Duo
Devialet Gold Phantom was on my list but I found out that Devialet does not repair speakers. When the warranty runs out you could be stuck with a very expensive paperweight.
First impression of the Duos: Way to much bass in my room. I need to reduce bass through the app. If I keep these I will need room correction to manage bass. Voices are fantastic. Very present and goosebump inducing. Joni Mitchell on "California" or Hannah Reid from London Grammar on "Rooting for you". The Duos also seems able to handle a lot things at the same time without losing clarity. Pneuma on the new Tool album is both delicate and hard at the same time.
I will be playing with the Duos and the Formation Audio all weekend. Feel free to comment or suggest good tracks for speaker testing or other speakers I should consider in the price range.