I have been searching (and saving) for new speakers for several years. Last year I tried the B&W Formation Duo at home but decided against them because they were difficult to integrate into my system.
Now the Buchardt Audio A500 have been released and I have had them for a week. They are very impressive with all sorts of DSP magic that gives them an amazing bass response among other things. I was ready to stop the search for new speakers and be satisfied but I had to scratch an itch before ending my year long search – an itch called Genelec 8341. They or the 8351 have been on my wish list for a long time. So before committing to the A500 I was lucky enough to borrow a set of Genelec 8341 from a local dealer.
So now once again the kid and wife are out of town and I have the weekend comparing these babies.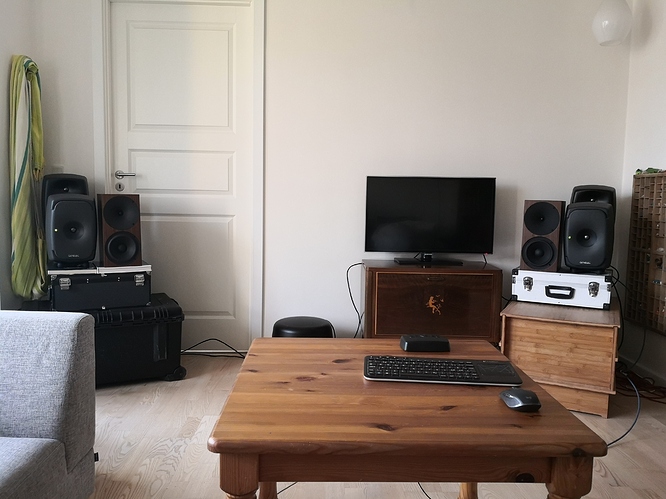 The A500's have a very deep bass. It's nice soft sounding but still tight. They have DSP compensation when playing under 70db that raises the bass to compensate for human hearing being not all that great hearing bass at low volume. I don't have the science reference for this but I'm sure it's out there somewhere at the "Shut up and play the music University". The A500 also have room correction to tame all that bass (and jazz) and it works reasonable well in my room.
The Genelec 8341 is of course a near field studio monitor with coaxial design. I have been reading about this design for years but never actually heard them before. I now think I finally understand the concept of imaging. It's very easy to hear the different layers of the mix voices, instruments ect. with these speakers even at 3 meters. And it's stable even if I crank the volume up to uncomfortable levels. By comparison the A500 gets in to trouble at very high SPL. I don't really need that high SPL but it's impressive that the Genelecs are able to do it.
So now I have the weekend to enjoy these two incredible sets of speakers and decide between them. Help and input from the Roon collective would be much appreciated.
I wouldn't mind waking up on a deserted island with any of these speakers. Provided of course there was also a low jitter music source available… and a volume of "how to build a boat in ten easy steps".