Roon Core Machine
QNAP
Networking Gear & Setup Details
Unifi
Connected Audio Devices
Various
Number of Tracks in Library
24000
Description of Issue
A new album came out a couple of days ago on Tidal: Begin Again (Remixed) by Ben Bohmer. I can see it in Tidal, and I can add it to my collection in Tidal.
It doesn't appear anywhere in Roon. I can't search for it, it doesn't appear in the artist discography, and it doesn't appear in my Library, which I would expect to do if added to my favourites on Tidal.
I've tried removing and re-adding it in Tidal - no luck. I've tried logging in and out of Tidal on Roon. And I've tried waiting - I know the synchronisation takes a while sometimes.
Albums I add in Roon do end up in my favourites in Tidal: that seems to work.
Any ideas what this might be? I saw someone else recently had a problem with Tidal and Roon not being synchronised: wondering if this might be more than a one-off.
Discography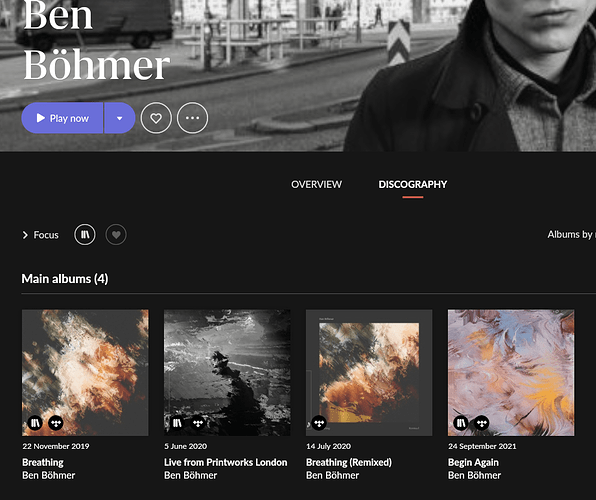 Roon Recently Added:


Tidal My Albums: