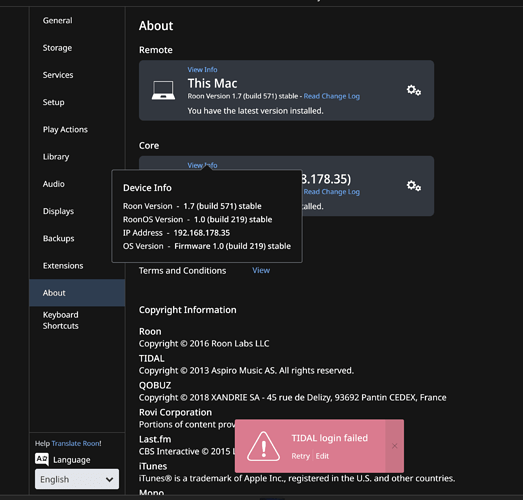 ROCK / Roon 1.7 / Build 571 / Roon OS 1.0 / Build 219
All devices run the latest Roon software.
My ROCK is directly connected to a Fritzbox 7590 modem with an audioquest ethernet cable. The Modem is connected to 100 Mbit DSL connection. IP address set up is on DHCP. I tried manually with google DNS but does not help.
I play my music on a Moon Neo Ace which is also directly connected to the Fritzbox via an audioquest ethernet cable. I control ROCK with an Ipad Pro, Samsung S10, Macbook Pro on Catalina and sometimes with a Surface Book 2 running Windows 10.
Issue:
I am running ROCK on a NUC7 and have Tidal login failures every day for months now. My Rock gets restarted every day. The issue started somewhere early this year after a Roon update. I have tried all ideas for the forum but it never helped. How can I fix this issue?