Are italics a hipster version of ALLCAPS?
This level of hostility makes Japanese military anthems sounds like AKB48.
Yes Roland that is what the Roon guys have said and on several occasions now…but I feel sure that we'll see a new solution within 15 minutes of these new "revelations" being communicated to Roon

@Bill_Lise
Eh ?
Italics are a form of emphasis, or a method of adding "tone" to text-based communication. Google it.

Hostility ?! It seems that most are being unfailingly polite and patient, however, your opinion may be different. Everyone's entitled to theirs, just not their own facts.
Right, time to get off this computer & enjoy the music (as the weather's too sh*tty to go out in) !
Happy Sunday everyone !
Roland,
It might be just me, but yes, LOSSLESS is "quite unlikely" to be used to refer to a lossy compressed format.
I might also venture as far as to say that HI_RES is just about as unlikely to be used to deceive the API user.
Is my folly already showing through?
As to your other comments… I don't know how the queries are written in Roon, and yes, you have linked it, and for the 3rd time, I have carefully read what he's saying there. You might want to read it again yourself, and note he's open to ideas and help - he specifically asks us to let them know if we see a Masters filter appearing within a genre, as it would indicate an API change on Tidal's side.
I'm afraid that despite being polite enough for me, Roland, you come across as dead set on telling me off. That might not be your intention though. I'm just trying here.
I won't even bother to dignify Ronnie's latest reply.
Thank you @Bill_Lise for taking the trouble of being supportive.
Also unless I'm missing something it seems like there's no way to search only the Masters list? Searches appear to be global even when you're in the Masters section. So you're forced to scroll from screen to screen to find a title, not ideal.
There are a few dimensions involved in determining that something "is MQA":
Whether an MQA version is available at all
Your location–not all tracks play in same quality in all places
Your account type
Whether it's streamable as MQA today, since streaming rights change day to day.
We're not going to tag files based on less than all of the information. Then all we'd be providing is a "could be MQA" indicator that was sometimes wrong in both directions.
I don't see a way to tag files as MQA precisely without having a way to go from the rights data we have access to, to a decision-making procedure that would determine whether, in a given region, for a given user account, on a given day, this track is going to play as MQA or not.
We have a mechanism for figuring out which content we are allowed to display and which content we are allowed to offer for playback–but we don't have a mechanism for determining quality prior to the moment of playback. This is the thing TIDAL would need to improve.
We are not very interested in a partial/imprecise solution to this. It's not a good product for us to be building–it will create confusion and support load, as people will be pointing to all of the situations where the imprecise solution gets it wrong (false positives and false negatives) and expecting us to take responsibility for fixing it.
We're happy to do this right with TIDAL's cooperation, but doing something desperate to get it sort of right some of the time doesn't seem like a good path forward.
Roon's creation of the MY TAGS tab in Release 1.3 made tagging the Tidal MQA titles a pretty simple process. The MQA light on an MQA compatible DAC makes for a good verifier. As shown in a post earlier in the thread, I was able to complete over 100 albums in less than an hour. At some point, maybe these titles can be auto-tagged some way, but it's a fairly simple deal to categorize them yourself. The KB link is posted below.
Thanks Brian for the comprehensive explanation.
I understand, but TIDAL also mentions the word "MASTERS" in name of the album. Is that something to use for tagging purposes?
rrwwss52…how did you create that playlist for the MQA albums…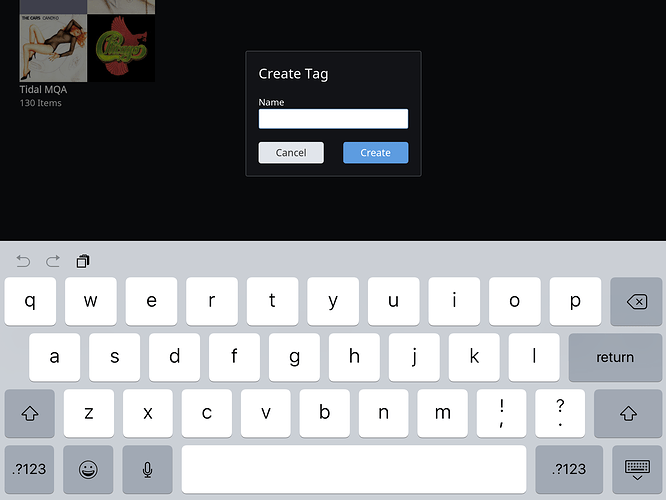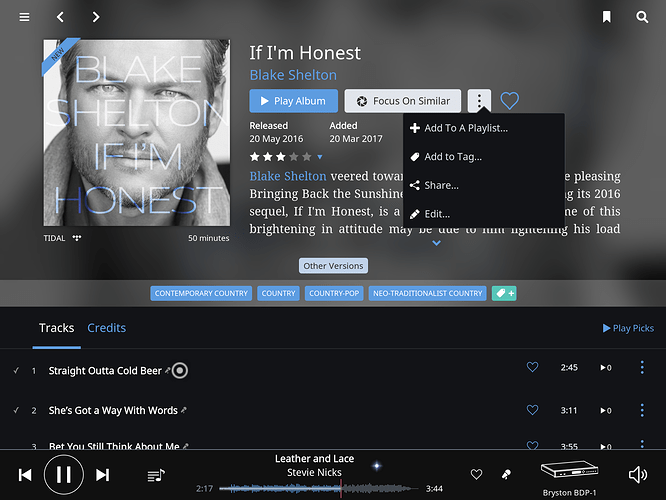 In the MY Tags tab on the left of the screen (two clicks below internet radio) bring up My Tags and press on the dialog box. At the base of the box with your name in it, select the blue + NEWTAG to create a tag. The Create Tag box will appear, Name it MQA or whatever. Named mine Tidal MQA.
Then add the MQA music title to your library, and press add to tag on the 3 dot bar next to focus, below the artist name. Check the box with the tag and you should be good to go.
Hope that makes sense…
@David_Smith You can automate bulk tagging a bit.
"Favorite" a lot of MQA albums in Tidal.
Sync the Tidal service, if you don't want to wait (Settings, Services, Tidal Edit, Sync Now).
You will get all those Tidal MQA albums added to the library. If you are in the Album browser, sorted by Date Added, they will all appear first. Select them ( right-click the first one, shift-click the last one).
Three dots menu up top, Add to tag, select as described.
Your way looks easier…I added them in mass, but added them one at a time confirming with the MQA light.

Without looking at it as metadata, is there any problem with display the M symbol that is present in the Tidal desktop app ?
Roon already displaying the E. So adding the M should be simple, or ?
I'm not requesting the possibility to search M, only that Roon displaying what already is available in Tidal.
This will be very useful as when dual or triple versions of an album shows up in a search, you will most likely understand what is MQA or not. If you are allowed to do playback or not should not be a valid argument for not showing the M as pure information, or am I wrong?
Hi @brian
Does the latest build, 242, with it's MQA related changes, mean we're a little closer to see the 'M' symbol when browsing Tidal? Or not really?
Not at all asking about a timeline but the technical challenges involved, since Roon can now identity MQA files.
Cheers
I'm not sure. It depends whether we decide to go down the path of trying to re-construct that data ourselves or not.