Same here, and unfortunately it does not help with the log off Tidal/restarting core procedure.
So we can better assist you, please provide a brief description of your current setup using this link as a guide.
Make sure to describe your network configuration/topology, including any networking hardware currently in use, so we can have a clear understanding of how your devices are communicating.
Hi Dylan,
Roon core: Qnap TS251D connected via ethernet to router.
Endpoints: Lyngdorf TDAI-3400, IMac (dragonfly cobolt), IPhone 11 (BT headphones), Sonos AMP
On every endpoint I have had problems recently but only with Tidal playback not my own files on the ssd in the NAS. Of I go back to the song that skipped it plays the whole song without interruptions.
Below I'll post an image of the recent played tunes from one album on Tidal. Not MQA-oriented, it happens randomly regardless of which type of file.
I'm a bit worried about this cause it is the second major issue with Tidal in my month I have had Roon. No problems when I use tidal app and play on Lyngdorf.
Kind regards
Jens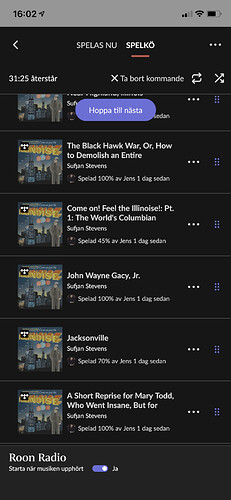 Hey @Jens_Lagerqvist,
Thanks for replying to Dylan's request and for your patience while we got a chance to reply. Now that Dylan is back, you should hear back from him on this email thread.
Please, allow us just a bit more time. He'll reply as soon as possible