Breaking this up into a few posts, since new users can't post enough images or links to make my topic comprehensive.
(POST 1)
Ok guys, let's kill this one off. I see a bunch of similar complaints on the forums regarding TIDAL tracks crackling, though the symptoms seem to be all over the place. I love Roon, and something like this is really a killjoy.
I'll try to provide as much specific data as possible, since I know there can be a number of factors in this sort of issue. Let me know if there are any other details which might help point to a solution.
I have reproduced the issue on two different systems now, and verified on numerous systems that it does not happen in native TIDAL.
The two systems are:
System 1
4x 1TB SSD Drives (shared with system

#2

)
Roon Server (QNAP TVS-471 NAS Running Roon) (shared with system

#2

)
WiFi Connection
Raspberry Pi
HiFiBerry Roon Image
HiFiBerry DAC+ PRO XLR
XLR Interconnects to Amplifier
Theta Digital Intrepid Amplifier
Loudspeakers
Soundpath for System 1 looks like: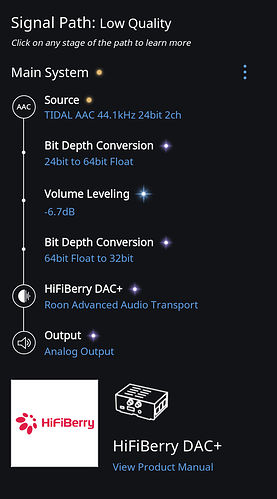 System 2
4x 1TB SSD Drives (shared with system

#1

)
Roon Server (QNAP TVS-471 NAS Running Roon) (shared with system

#1

)
WiFi Connection
Raspberry Pi
HiFiBerry Roon Image
HiFiBerry Digi+ PRO
Coaxial Digital Interconnects to DAC
Emotiva DC-1 DAC
Headphones
Soundpath for System 2 looks like: