Core Machine (Operating system/System info/Roon build number)
QNAP TVS-871Firmware 4.4.3.1400 Roon Server 2020-07-15 (test period is running)
Audio Devices (Specify what device you're using and its connection type - USB/HDMI/etc.)
Linn Majik DSM via LAN-cable
Description Of Issue
You can select if you want to have the roon-title or the title from the file for the album and the titles. But this doesn't work if there are multi-part titles: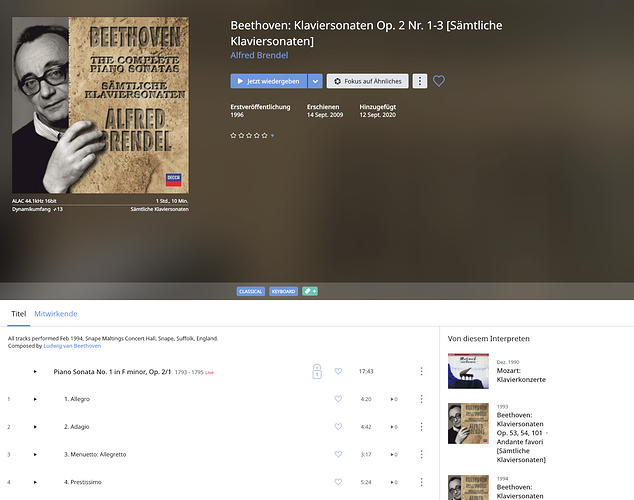 I have maintained my titles with the original title (intended by the composer). In this case the title of this composition should be:
Sonate Nr. 1 f-Moll Op. 2 Nr. 1
I have read a lot of threads in the forum about this topic and have not found any solution to my problem.
So the next try was to remove the grouping in Roon at all and show the original title, but I do not find any setting to ignore compositions at all. You can only add compositions.
My track-names are build like this: Sonate Nr. 1 f-Moll Op. 2 Nr. 1 • 1. Allegro
if the CD is not recognized, the composition would be like this:
Sonate Nr. 1 f
Moll Op. 2 Nr. 1 • 1. Allegro
You see: the break is done at the "-", but this is not mentioned in the settings. Proposal:
Compare the first letters until to the first difference and take this as name of the composition. Ignore the mainained seperators like "•".
Last question:
I have found the meta-data description in your online-help https://kb.roonlabs.com/Metadata_Model
Is there any chance, if I add to my files your tags, that they will be taken? (this would also fix my first problem: I would then maintain it via yate.)
Thank you for your help in advance.
Best Regards,
Cosmic