Thanks for the details, very much appreciated.
@Philipp_Schaefer, the internal DAC of the T2 sounds far superior to using USB out of the T2 to the DAC in my Hegel H190. I'm sure that at some (price) point you find a DAC that is superior to the T2's but I suspect you need to open your wallet a long way.
I will concur that the T2 dac is much better than going USB out to the internal dac of my Mark Levinson 585.
And that's no slouch!
Lumin recommend leaving on 24x7 I think to keep the clocks at a stable temperature
That's great. I only heard good things about the LUMIN DACs.
I'm very happy with my PS Audio DirectStream DAC, fed by I2S from a Matrix SPDIF-2 that gets USB from the LUMIN U1 Mini.
I was particularly interested in the streaming performance comparison. I'm thinking of replacing the internal SMPS of the U1 Mini with an external LPS (either Plixir or Farad) so I'm looking at all information I can to justify my irrational needs.
I am also thinking of replacing the power supply of the T2 but that requires a couple of fairly simple internal mods I believe?
And also invalidates the warranty, if that's something you care about

.
Good point.
It can wait…lol
I am considering moving to T2 from my current U1 mini >>>USB>>>Qutest>>>RCA>>>BAT VK3000SE setup. Main motivation is of course sound quality…and also having an external DAC is feeding the irrational upgrade bug; not to mention less cables/boxes. Wondering if anyone had experiences with the Chord Qutest and U1 mini vs T2?
I have an Sbooster on my lumin if it's done by a certified installer(place I bought the Sbooster) the warranty stays in tact.
Sound quality gets a huge upgrade adding a Sbooster to the lumin.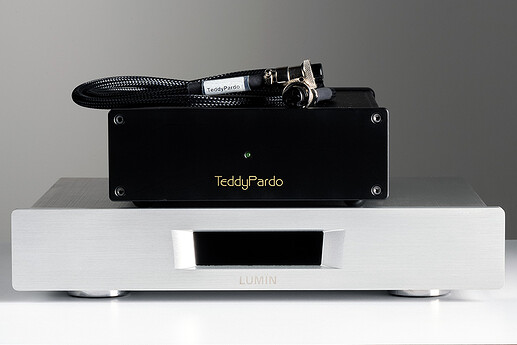 The Lumin Upgrade Kit, replaces the internal switched-mode PSU inside the Lumin U1/D2/T2 models, with an external power supply (Teddy12V/4A) and an adapter panel. Design is based on the experience gained with the TeddyCap family of power supplies for Naim Audio equipment, and uses the same technology.
In general, you'll experience more clarity, tighter bass, more detail, better dynamics, natural voices, better soundstage etc.
Nice to see an alternative to the SBooster kit…was very impressed with a previous dealing with Teddy Pardo - I can imagine it works well for you

Replaced today also the power supply to the Teddy Pardo.
Really fast devilery from Israel to Germany (two days), but the adapter looks a bit cheap and the manual fits not complety to the T2.
I've to cut only one cable (not all four ones) and so it's easy to come back to the orginal internal power supply.
Is there a difference in the SQ? I don't know, but it feels better

This is the original psu inside all Lumin units, including the very expensive T2 model-Mean Well AC/DC RS-25-12

https://www.meanwell-web.com/en-gb/ac-dc-single-output-enclosed-power-supply-output-rs--25--12
https://www.trcelectronics.com/View/Mean-Well/RS-25-12.shtml
I use MeanWell SMPS in many of my DIY audio projects and they perform admirably - and while I have Plixir and HDPlex LMPS options for all my Lumin's "I" can't honestly say (hand on heart) that I hear any differences.
Yes, I'll think, that there isn't a great change in the SQ. All the people which tought in another way, haven't compared in an A-B-test.
Nobody says that the MeanWell SMPS is bad, it plays quite well with it. But with external power supply, the sound is on a whole other high level. We compared the A-B test, you can hear it with your eyes closed. If you do not hear this on your system, it means you have problems with it.
This whole discussion is why I bought the LUMIN U1. It has a LPS. More expensive but worth it. I'm using the DAC in my preamplifier but can switch to any DAC I want. Just my thoughts. Happy listening LUMIN users.
I have a U1 Mini with a BDA-3, have not changed out power supply on U1 seriously around 400-500 hours it was still getting better (the BDA already has 1000's if hours on it). That being said my gear is all connected to a Panamax Max5100. Which is on a dedicated plug back to electrical panel. My switches are all isolated from each other with Fiber. My power amp is 3B sst2 with Paradigm Studio 100 v3. I might go T2 or BR-20 haven't decided.
I followed the very same logic, lets not forget you'd still have the X1 LPS which offers a substantial upgrade on top.