I can recommend using the Uptone EtherRegen with the SonoreUPnP Bridge in this configuration as part of a Roon environment.

There are quite some changes during Burn-in of the EtherRegen switch, but now I am 4-weeks with the EtherRegen (& 2-weeks since the firmware upgrade) and I have so much more detail on every track played. The detail was there before, as the same recordings/files, but now it is just there - whether it is that the noise floor has dropped so making the fine details more audible or is the signal timing more accurate allowing the micro-detail to come into better focus. It is equivalent to a source upgrade, a better cartridge, change in DAC technology etc. Whatever it is and why, it is excellent.
NAS and ROCK server are upstairs connected to a GS108 as data backplane for main and backup NAS units, with port priority given to the playback stream between main NAS, NUC running ROCK and downstream connection. The Wireless AP, and a switch (GS105) for IoT devices are on different ports on the firewall router, with Virgin Media's Router being in Modem-only mode.
The EtherRegen is downstairs with the isolated 'B' port to Naim NDS with Chord Sarum Tuned streaming cable. The A ports of the EtherRegen have the upstream connection (AQ Vodka), a UltraRendu running the SonoreUPnP Bridge (Chord Anthem), a RPi2 running Asset R6.4 UPnP server (AQ Vodka) and an AppleTV (AQ Cinnamon).
All switches, including EtherRegen, powered by LPS.
NAS and ROCK server also on LPS.
I have tried to ensure network optimization for the playback stream, from NAS to Network player, so the EtherRegen is the final piece of this approach with the "moat" isolating the stream to the NDS.
So the Moat from A ports to B port is from Uptone Audio
"Going from port-to-port on the 'A' side of EtherREGEN is already better than most any other switch, but crossing our A ctive D ifferential I solation M oat (" ADIM ™")—to its 'B' side—brings an unmatched level of Ethernet performance for audio. On the circuit board photos you can see the EtherREGEN's "moat," across which sit the differential digital isolators."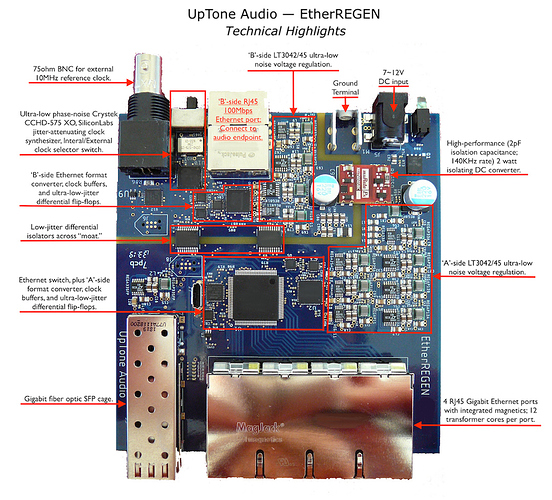 So check out the top section of the PCB, is completely separate on the multi-layer PCB. The B port is designed for the streamer or Ethernet driven DAC (streamer/DAC aka Network player).
On the image of the PCB where the extend of the isolation is clear.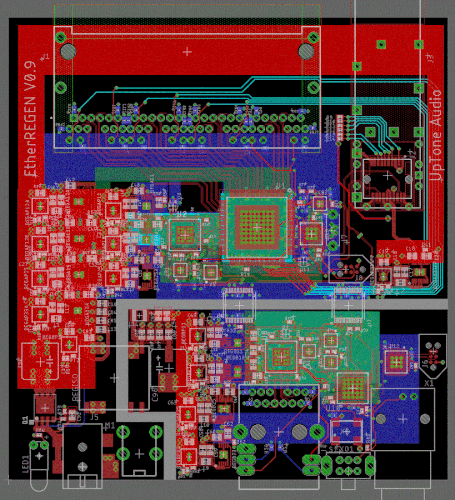 There was lots of discussion about this switch as it was developed, but the SQ improvements from swapping out a CIsco 5-port switch to the EtherRegen and making no other changes is clear.
Simon