Core Machine (Operating system/System info/Roon build number)
Roon 1.7 on Mojave 10.14.6
Network Details (Including networking gear model/manufacturer and if on WiFi/Ethernet)
not really applicable
Audio Devices (Specify what device you're using and its connection type - USB/HDMI/etc.)
As in this screen grab of my Settings > Audio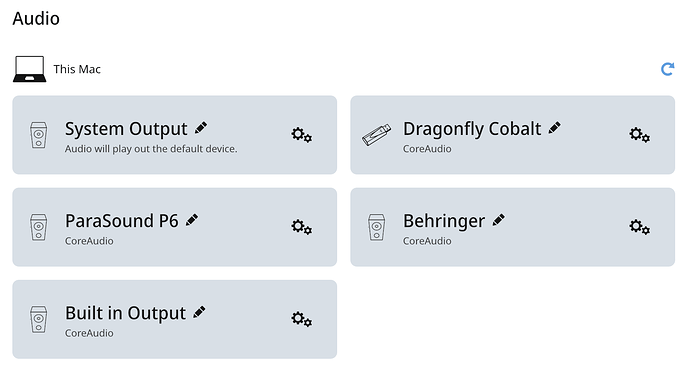 Description Of Issue
Still getting to grips with Roon's concepts of Zones and Devices…
I gave myself a scare this afternoon when nothing I could do would 'route' (?) audio in Roon to my ParaSound stereo system. Eventually I discovered that somehow the ParaSound P6 Zone (really just a device as far as I'm concerned and am using Roon) was set to Transfer to System Output.
Once I realized what this transfer does and what its effect is, I was able to change things back and everything is OK.
But I remain puzzled as to what Roon understands by System Output on macOS and how I should (or should not) use it.
I know it's not the same thing as 'Built in Output'… that's an analog stream after my Mac's onboard DAC.
Secondly, and related, I'm quite happy not to use SoundSource - as was kindly advised by @David_Snyder in this thread. But am still confused as to where the Sound Preference Pane (and for that matter /Applications/Utilities/Audio Midi Setup) fit in… does each/do they override Roon's path settings, complement them, or potentially conflict with them?
Any clarification would be much appreciated, please

!