Hi @Klaus_Hansen,
I don't see the network share here, just the local drives, the zen, and Dropbox.
If you go to Add Network Share and add \\192.168.0.2\Roon_Backup and the username and password for the Mac does that work?
Thanks for confirming, @Klaus_Hansen.
Are you getting the same exact error?
Can you make a note of the time the next time you try and respond here with that like before? Then you can send logs from the Mac Core this time and the team can take a look and compare the two.
Hi @Klaus_Hansen,
We are seeing the following trace when you try to connect to that share:
11/15 21:26:15 Warn: [roon/cifs] mounting failed: mount_smbfs -N -s -o nobrowse '//Klaushansen:******@192.168.0.2/Roon_Backup' '/Users/klaushansen/Library/RoonMounts/RoonStorage_6be521427c837b995bd4304295534906770f9961' [rc:77, output:mount_smbfs: server rejected the connection: Authentication error]

Essentially, it looks like Roon is trying to access the drive and it's being denied by the Mac.
Can you confirm that "Windows File Sharing" is enabled for the account in System Preferences > Sharing > Options? Can you share a picture of this setting?
Has the username and password that you used for that share changed at all?
Do you have any antivirus or firewall enabled on this machine? It's possible they might be blocking the connection.
Hi @Klaus_Hansen,
Can you share a screenshot of what you entered in Roon for this one along with the error?
Any updates on this?
I would like to mention that I change Internet Service Provider from Thursday or Friday and will get a new router.
Hi @Klaus_Hansen,
Do you know what router you will be getting?
I think it's definitely worth giving this a try when you get the new network setup and let us know if this changes anything. From what we saw, it looks like something on the Core or on the network is blocking the connection, so knowing how things work with an entirely new network will help us narrow that down.
I will get a Sagem Fast 3890V3 router. I will let you know when the network is up and running.
I got my new router today, but I can't still do a backup. And I got another problem after your latest update.When I close the lid of my Mac the display of cover disappears from my Naim Nova. I just get a black screen.
This topic was automatically closed 36 hours after the last reply. New replies are no longer allowed.
Hi @Klaus_Hansen — First, please accept my apologies here. It looks like this issue was incorrectly closed by our automatic system.
Next, I'd like to recap everything so far:
This started occurring after macOS Catalina update
Windows File Sharing is enabled under System Preferences > Sharing > Options
The same error occurs when you use the Mac as a Core machine and you try to backup over the network
No antivirus or firewall exists on the Mac
There has been no change to username and password and they're being entered into the Add Network Share screen
No change with a different router
Is that all correct?
In the latest screenshot: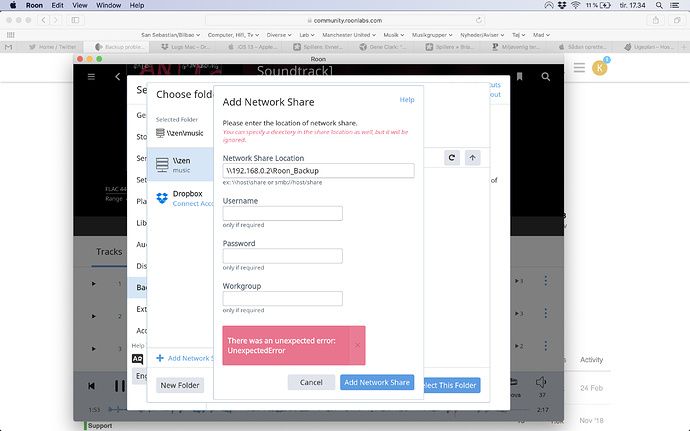 I do not see that the Username and Password were entered as mentioned above. Just to verify — There is no change when entering them in, correct?
I am not completely sure it started after macOS Catalina update. But apart from this it is all correct what you mention.
And there is no change with Username and Password
I did a Clear Roon Database from my Innuos and after that I can't connect to my music on Roon. I'm really frustrated and thought if it was possible to do a log in session?
Hi @Klaus_Hansen,
Do you have a Roon Backup you can restore after clearing your database?