New album by Beyonce+Jay-Z out yesterday. In TIDAL but not Roon. Fab album…
Now on Apple Music, too. Just did a search in Roon, no joy.
And Spotify…
I do understand that Roon likely depends on TIDAL pushing update files to them, and once pushed probably update pretty fast and automatically on the Roon side. Is this a case of not getting such updates?
It's a constant issue. The more you follow albums of the moment the more you might notice it as an issue. .
I've given up on ithis changing due to the explanation given (Roon handles the Tifal catalog different than, say, Auditvana, as we know) but at the same time waiting til Sunday for an album that's trending on Friday is still frustrating. Especially in the case of Friday releases which can be anticipated every week.
Every new album I end up listening in my office on headphones because my main system is locked into Roon. My two cents.
Agreed. My tongue in cheek comment about the album now being available on Apple Music was to point out that Apple Music is a Tidal competitor, not a Tidal collaborator.
Hi all,
Sorry for the troubles here. As mentioned in our documentation on the subject, the TIDAL content you see in Roon is not a direct pass through of TIDAL content, but actually Roon's TIDAL database. That's why there's so much more metadata, like recording dates, lyrics, links to composers, credits, etc.
This database is generated multiple times per week, but in some cases albums may barely miss the cut-off and so it takes a couple days to appear in Roon. The next time this generates you'll be seeing the album in Roon.
Regards,
Dylan
Since TIDAL is a major selling point of ROON, and since this title is a major selling point of TIDAL, is there a way to get it (and other such titles) up faster?
I have an entire thread about this in the feature request.
Please add a comment there so the devs notice that it's not just me that wants faster updates. It's almost a weekly thing.
First world problems of course, but would be nice.
I much rather have an initial barebones update followed by a data enrichment update. Seriously.
Playing B's album to my Rossini over UPnP. Somehow Audirvana figured it out.
SAD!
Hey guys – the album should be available now.
We're looking into why this was more delayed than normal, but you should be able to find it now under The Carters. Brian posted some background information about how we ingest content from TIDAL and what causes the delay is here.
Enjoy!

You should be able to meet the same readiness as Audirvana. There's no excuse really. Yes, this might mean changing your data loading to a two-stage. So you should have:
1- A polling mechanism, possibly from the "new" TIDAL playlist
2- A flag to indicate in Roon the new album might have only barebones data as it had been polled in, and
3- An update when you get all the data and subsequent removal of the "barebones" flag
And BTW, on the specific case of B's album, Audirvana indicated the artist as "Beyonce, Jay-Z, The Carters", not just "The Carters".
I assume it's not a matter of can't but rather won't. Half baked metadata is not up to Roon's standards and so missing albums are deemed more acceptable. Not that I agree.
As I suggested, it would get a second pass. It's worse not to be able to listen to a new release AT ALL in my opinion. Make it an option to screen out all "barebones" flagged releases if you wish.
Also: Look at the info there right now in Roon for B's album. It is what you would get by doing a pull as I suggested.
To be honest, I think someone in Roon manually pulled this info from TIDAL…
I agree. Info on both Tidal and in Roon is pretty basic. Apple Music screenshot indicates that they have pulled more data: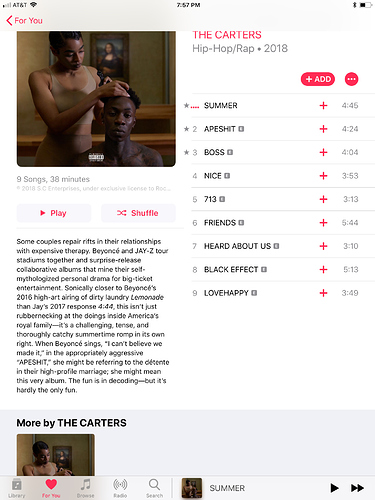 Of course we didn't. This album simply came to us late and we rolled out the metadata as soon as we could.
In addition, TiVo doesn't have metadata for it yet (as I type, the album is not on all allmusic.com) and whoever entered it into MusicBrainz did a poor job initially. As always with Roon, metadata will improve over time if our sources - initially - fall short.
As @mike said, we're trying to understand why this came to us late.
Ok, my bad, apologies.
That was my understanding, which would then might justify the initial polling of the "new releases" playlist in TIDAL.
Having said all this, I don't know if this is at all doable given your load process - I am basing this on the fact that the information does exist in TIDAL, and through APIs such as Audirvana, much faster.
Can't wait til Qobuz launches so I can ditch Roon, Tidal, and esp Tidal's non stop promotion of Jay Z and Beyonce. Yuck.