Just wondering how this configuration works with Roon: Our Bluesound Vault 2i is feeding a wireless stereo pair of Bluesound Mini 2i speakers. We were previously managing this system with BluOS software, but recently upgraded to Roon, whose core is running on a high-end Windows 10 laptop. The result is much more reliable wireless network connectivity, as well as a superior library management interface.
But Roon also allows us to see for the first time how our signal path is being configured (see below), and this raised a couple of questions that we're hoping someone here can answer.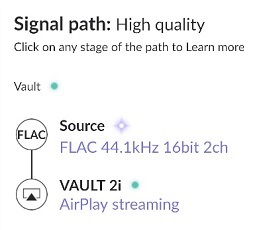 As you can see, the source is a 16/441kHz FLAC file stored on the Vault. But Roon says that our signal path is "high quality," which I take to mean that the system is using lossy compression, and that the Vault is using the Apple Airplay protocol to stream audio data over the wireless network. To me this seemed sub-optimal, since Bluesound says the Vault can use a lossless protocol to stream to the speakers.
So which component configures the signal path in this system? Is it Roon, and if so, is it possible to tell Roon to choose a lossless protocol? Or is it the Bluesound components?
I raised these questions with Bluesound tech support. They said they were unfamiliar with the internals of Roon, could not account for Roon's Signal Path display, and suggested I ask on this forum instead. Any insight?