Hi @Farid_Maruf,
Does rebooting the Chromecast device or your Core machine resolve this, even temporarily?
Yes. It helps, but the problem keep coming back. After awhile, you need to guess which entry that works.
Hi @Farid_Maruf,
So we can better assist you, please provide a brief description of your current setup using this link as a guide.
Make sure to describe your network configuration/topology, including any networking hardware currently in use, so we can have a clear understanding of how your devices are communicating.
What kind of Chromecast is The Frame One? Is it a built-in Chromecast, regular Chromecast, or Chromecast Ultra?
Try allocating dhcp reservations of ip addresses for these devices in your router. I found this resolved similar issues with airplay and chrome devices in the past.
See attached topology.
Note: The Frame One and Chromecast -ultra actually the same device. It's a Samsung TV that has no built in Chromecast capability (has Airplay built in). The Chromecast ultra is attached to this TV.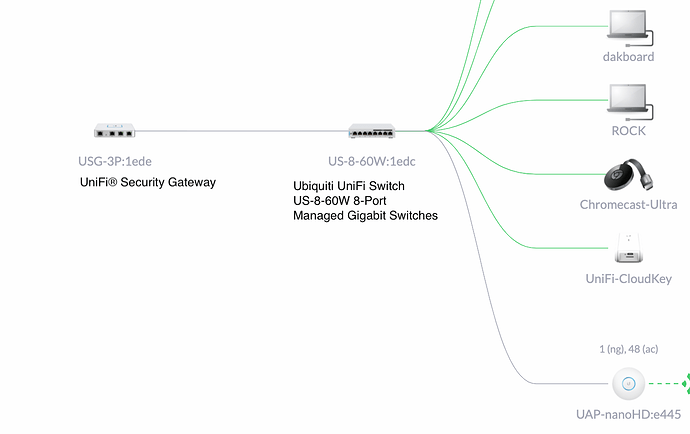 Thanks. I will try this interim.
Still think the permanent solution is needed.
Farid
Hi @Farid_Maruf,
Has the Reserved IP change helped with this issue?
In the past, did these zones only multiply when the DCHP lease expired?
Yes. Assigning a static IP solve the problem. I have connected (using dynamic IP) another Android TV box (with chromecast capable) and the multiplication on that box is happening.
Thanks for confirming that aspect @Farid_Maruf, this is good information to have and I've let the team know. If you notice the issue re-occurring after setting up the Address Reservation, please do let us know.
Hi Noris,
I guess I talked to soon… Sorry to tell you that the problem did not go away even after assigned static IP to the Chromecast. In fact I think it create more entries. Interestingly this has never happen to the Google smart displays (Google Nest Hub and Lenovo Smart display) which their IPs assigned by DHCP. The only remedy is to restart the ROCK.
Hi @Farid_Maruf,
Do the duplicates show up at a set time or are triggered by an action?
For example, do you see a duplicate occur at midnight or noon?
Do the duplicates appear when you turn your Core/device on and off?
Hi Noris,
I keep my Rock on and connected all the time. So after sometimes, from any Roon client you will see the duplication from the little display icon under speaker icon on the bottom right, when I want activate display or from setting menu. Over the time, new duplicate entries were added.
If I restart Rock, this problem gone.
Hi @Farid_Maruf,
Can you please private message me (click my name -> message) a copy of your ROCK logs when you are next in this state? You can use these instructions to access the logs, any questions just let me know!
Done! Please update us with the solution…
Hi @Farid_Maruf,
Happy New Year!
I wanted to reach out to let you know that we are still looking into your issue, we are aware of a few similar reports and we have an investigation in progress into this.
I can't comment when exactly the investigation will be complete, but thank you for your patience here in the meantime!
Hi @noris, any updates on this one? Just ran into the same issue on my ROCK.
Hi All,
We made a change regarding this issue in a past Roon release, if you were impacted by this, are you still seeing duplicate devices at the present time? Let us know!
This topic was automatically closed 30 days after the last reply. New replies are no longer allowed.