I'm seeing warnings from avast anti-virus on Roon files.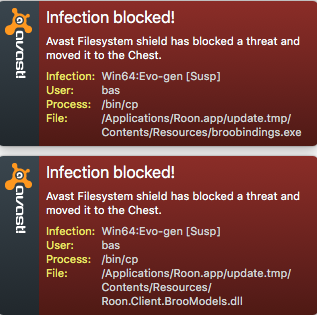 Which means Roon doesn't start anymore (stuck in update cycle I guess). I've tried to restore the quarantined files, but that did not resolve it.
As it is a Roon client, will just re-install.
…
I guess not that easy as my download is also blocked. Can do install without virus scanner on, but I guess would be nice if Roon can confirm they are indeed virus free

I'm running:
OS X 10.11.1 El Capitan
Avast Mac Security 2015 - version 11.5 (45630) - virus definitions version 15122000
Upgrading to latest Roon from prior version
Messaged Avast for false positive analysis.
iOS is the operating system that runs on the iPad and iPhone. I think you mean OSX.
Additionally, check the installer you are trying to run: the virus scan is identifying .exe and .dll files as the issue. These are Windows files. Make sure that the installation file you are trying to run is the Mac version and not the Windows version.
On the Mac, if you have a previous version of Roon already up and running, you don't need to re-install. Go to the Roon/About menu on your Mac and it will tell you the current version, and kickstart the download of the latest update.
Hope that helps.
Yes, OSX, the files apparently are part of the OSX installer. It did this itself during the upgrade from the existing install and when i download the dmg. I did not download the windows files for a mac.
My Roon is stuck in the upgrade, so won;t start. Don't see another option than to re-install, which won't download.
So, stuck.
Hmmmmm. That does sound like a tricky one. Sounds like you need one of the official support gurus to chime in on the contents of the .dmg file. I'm sure they will get it worked out for you. I'm not sure who to @mention though. Hope you get it sorted.
I've manually copied the 2 files into Roon.app/Contents/Resources (each time restoring them from the Virus scanner chest).
Roon now starts up again and is now running build 88 without issues (so far). I guess, as Roon is using Mono, it does need these 'windows' files.
Anyway, assuming the files are not infected, I am good till the next update, but suggest Roon looks into it, as I might not be the only user with Avast as a virus scanner.
Have the same problem. Roon won't start. Please help.
Hi @James_Bracken – we're working on getting this resolved with Avast. It sounds like @rovinggecko had some luck taking the two files that were flagged and restoring them from the Virus Scanner Chest, but unfortunately we are not running Avast in house (yet

) and we're hoping they can resolve this for us quickly.
Let me know if you're still stuck @James_Bracken and we'll make sure we resolve this for you real soon. Thanks!
For what it's worth, I am using the free version of AVAST! but have not experienced any issue with the upgrade to build 88. However, contrary to the OP, my system is Windows 8.1.
Fixed it by turning off Avast web shield, downloading Roon and reinstalling. But, now when I'm in the Album view and push the Focus button, Roon immediately crashes and I need to restart. Any ideas on how to fix?
Thanks,
Hey @James_Bracken – hard to say whether that's related or not, but logs should help. I'll be in touch via PM and we'll figure this out.
Thanks for your patience here!
I have panda. It will not let me run installation download on windows 7 machine.
Same problem over here on OS X 10.9.5. Deactivating Avast worked (temporarily).
Continuing the discussion from Roon 1.1 (Build 88) is live!:
It's a diaster. Update on Mac doesn't launch now, download comes thru as an infected file…
Since Build 88 is running happily on lots of servers already, I would not exactly call it a disaster…
Your issue however sounds suspiciously like Avast anti-virus blocks Roon 88 for OSX
Are you running some kind of Antivirus software on your Mac? Your quick fix for now could be the same as the one performed by RovingGecko in the above thread.
Indeed, sounds very much like what I had.
You can do what I did (see posts RBM pointed out), or try to:
turn off your anti virus
do the update\install
turn it on
then your anti virus will probably quarantine the installed file so you need to un-quarantine it in your virus scanner
Or wait till Roon \ your virus scan manufacturer fixes it.
It might help Roon if you share what virus scanner you are using.
Yes, I already figured this out…Advast, MAC El Capitan 10.11.2
RBM Shouldn't updates be transparent and just work? Spending time on forums to debug what should just work should not be on me. I can't remember having an update issue with any MAC app, ever. Until now. Why no warning on the update page?
For everyone not running Avast, it is transparent and just works.
No one at our company runs Anti Virus software as it just slows down your system. Also, in an environment where minimizing electrical noise is key, the Anti-Virus only hurts your sound quality (if your computer is attached/near to your audio outputs).
Anyway, we are in the process of looking into getting Avast to whitelist our files, but this stuff happens all the time with anti-virus software. Been doing this for 10+ years, every build seems to hit issues withe some anti-virus out there.